Stories Beyond DNA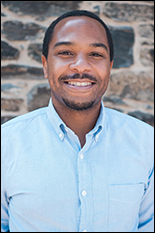 This year marks the 20th anniversary of human genome sequencing and, with that, the very first DNA-based ancestry tests.
Over the years, both genomics experts and privacy advocates have weighed in on the impact of "at-home genealogy" kits. But, this week, Fischell Department of Bioengineering Assistant Professor Gregg Duncan joined six other young scientists from around the world in sharing their take on how such tests can shed new light on the stories, traditions, and culture that span one's lineage. Their personal stories were published in a unique feature in Science titled "Beyond DNA: The rest of the story."
Duncan opens his piece by describing the perfect meal: oxtail, fried dumplings, and ackee with saltfish – his mom's Christmas dinner classic that incorporates traditional Jamaican spices, reflective of her family's heritage.
Duncan's family traces its roots to Jamaica and the Virgin Islands. But, exploring their collective history beyond a few generations is incredibly challenging.
"My DNA test results confirmed that we have some background in Europe and likely moved to the Caribbean through the slave trade," Duncan wrote. "The details echoed a story on my mom's side of the family that one of our ancestors was the child of an Irish slave master and a woman he enslaved."
Although Duncan, himself, has what he described as "mixed feelings" about consumer DNA tests, he acknowledges that it was important to his mom that they take the opportunity to further explore their ancestry.
"The results confirm for us in a tangible way the complexity of our family history and the resolve of our ancestors must have had to make better lives for themselves against all odds," Duncan said.
The full Science article is available online. In addition to Duncan, Yongsheng Ji (University of Science and Technology of China), Marie-Caroline Lefort (Universite de Tours, France), Ruty Mehrian-Shai (Sheba medical Center, Israel), Prosanta Chakrabarty (Louisiana State University Museum of Natural Science), and Maria Fernanda Torres Jimenez (University of Gothenburg, Sweden) shared their personal stories.
Published February 21, 2021