Connor Hall Named Philip Merrill Presidential Scholar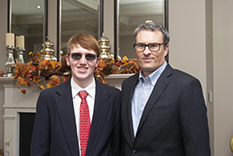 Fischell Department of Bioengineering (BIOE) senior Connor Hall was named a Philip Merrill Presidential Scholar in a Nov. 15 ceremony at the University of Maryland (UMD) University House.
The Merrill Presidential Scholars Program honors the University of Maryland's most successful seniors and their designated University faculty and K-12 teachers for their mentorship. BIOE Associate Professor Ian White and Glenelg High School Chemistry teacher Lucero Cabotaje were recognized alongside Hall for their outstanding mentorship.
"One of the most influential teachers I had in high school was my chemistry teacher, Mr. Lucero Cabotaje, who bolstered my interest in science and the scientific method," Hall says. "He emphasized hands-on experience in his class, which enriched my understanding of the applications of chemistry and the interconnectivity of the natural sciences."
Hall's curiosity and penchant for learning drove his interest in a career path involving academic research. He enrolled in the BIOE program, but felt somewhat unsure of his own abilities. At the end of his freshman year, he joined Ian White's Amplified Molecular Sensors laboratory. The group's work emphasizes the development and application of novel amplification strategies to add orders of magnitude improvement to chemical and biomolecular sensing, while improving the simplicity and usability of sensors and diagnostic systems.
"I was fortunate enough to meet with Professor Ian White in my freshman year, and since then he has become one of my biggest supporters and mentors," Hall says. "He [White] is always willing to answer my questions in the lab, the classroom, and over email. Even with an extremely busy schedule, he finds the time to meet with me in person each week. Learning from Professor White has been an invaluable experience which has helped me improve as a researcher, a writer, and a person."
White was previously recognized as a Faculty Mentor by 2016-2017 Philip Merrill Presidential Scholar Adam Berger (B.S. '17).
White elaborated on Hall's work: "Specifically, he aims to develop a new tool based on paper and inkjet-printed metal nanoparticles for the specific identification of multi-drug resistance (MDR) in pathogens. His work may lead to easier methods for MDR infections to be identified and may better promote appropriate use of antibiotics. He is extremely bright and is dedicated to his research, and will most certainly make an impact to the bioengineering world upon graduating."
The senior was previously recognized with an Integrated Life Sciences (ILS) Honors Program Teaching Award, and the BIOE Outstanding Junior Award.
Hall is currently working on his BIOE honors project, the development of a paper SERS sensor to discriminate beta-lactamases in infections, and he plans to defend his BIOE honors thesis next spring. He is grateful for everything his mentors have taught him, and is looking forward to applying his skills in the biotechnology industry after graduation in May.
Published November 26, 2019