Five BIOE Students & Alumni Named NSF Graduate Research Fellows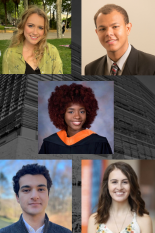 Five members of the BIOE community were named recipients of the prestigious National Science Foundation (NSF) Graduate Research Fellowship Program.
The NSF Graduate Research Fellowship Program (GRFP) was established to ensure the vitality and diversity of the scientific and engineering workforce of the United States. The program recognizes outstanding graduate students who are pursuing full-time, research-based master's and doctoral degrees in science, technology, engineering, and mathematics (STEM).
Anne Barnes
Anne Barnes is a current BIOE senior working in Professor Alisa Clyne's Vascular Kinetics Laboratory. Barnes's passion for research stems from wanting to gain hands-on laboratory experience. Barnes loves pairing experimental design and publishing research work together, which tells a story about bioengineering.
"I became very passionate about my projects about sex differences in cardiovascular health since women are often underrepresented in research," she said. After graduation, Barnes plans to attend graduate school and earn her Ph.D. in bioengineering. After getting her Ph.D., Barnes would like to work in research and design at a medical device company.
"My experience in Dr. Clyne's lab pushed me to pursue my Ph.D. in bioengineering. I am so thankful to be a part of such a supportive group that pushes me to be my best," she said.
Barnes was surprised to receive the fellowship. The award lets her focus on finding a lab that will allow her to work on ways to fight healthcare disparities, like developing inexpensive point of care testing or focusing on underrepresented groups.
Ryan Felix
Ryan Felix is a first-year BIOE Ph.D. student in BIOE chair John Fisher's Tissue Engineering & Biomaterials Lab (TEBL). Felix's work involves the application of machine intelligence to the challenges facing 3D bioprinting by advancing a scientific understanding of how to improve tissue-engineered designs.
"Working in Dr. Fisher's lab has been a treasure. I'm blessed to be part of a cohort of Ph.D. students who are highly knowledgeable and driven toward progressing in the field of tissue engineering, all led by such an excellent mentor, researcher, and engineer," Felix said. After graduation, he wants to pursue entrepreneurship built upon his Ph.D. work. "I think Maryland is a great place to pursue this as there are countless resources from the university and the state to support new bioengineering technologies going to market," he said.
Felix is overjoyed and grateful to have been selected for the fellowship. The funding will allow him to pursue his research and, hopefully, dramatically increase his research productivity by alleviating funding challenges.
Bailey Felix
Bailey Felix is a second-year BIOE Ph.D. student in Ryan Sochol's Bioinspired Advanced Manufacturing Laboratory (BAM Lab). Her work is currently investigating novel 3D printing strategies for medical device fabrication. More specifically, her research revolves around clinical collaborators designing and manufacturing surgical devices to overcome the limitations of presently available surgical tools.
"It's an exciting blend of different bioengineering aspects as we deal with anatomical constraints, accessibility issues, patient experiences, and manufacturing challenges. This is what I find so exciting about bioengineering," she said.
Felix noted how much she enjoys working for Dr. Sochol and his lab. Dr. Sochol encourages creative inquiry while supporting his students through the inevitable trials and tribulations of research. The lab culture was everything Felix was looking for, and she feels lucky to consider her lab mates good friends of hers.
Felix noted that she is honored to win such a prestigious fellowship. This fellowship allows her to pursue cutting-edge research at a high level without worrying about her financial security. She hopes to leverage this fellowship and the experience she gains from it to work toward a career in government-based medical device research and regulations.
Erfan Jabari
Erfan Jabari is a recent BIOE graduate and has been a member of Fisher's Tissue Engineering & Biomaterials Lab since 2019. He has assisted with osteochondral bioprinting studies and completed an honors thesis in bone regeneration. These experiences helped him better grasp the exciting role of bioengineering in solving medicine's most complex challenges, and reinforced his interest in regenerative medicine.
To continue exploring this interest, Jabari will work with the Tissue Engineering & Biomaterials Lab (TEBL) and the National Institute of Dental and Craniofacial Research (NIDCR)'s Immune Regulation Unit to engineer transplantable bone marrow as a National Institute of Health postbaccalaureate. "I am excited to further my involvement with TEBL's supportive team of scientists who have already contributed so much to my growth as an engineer," he said.
In the future, he aims to serve as a clinician-scientist at the intersection of research and healthcare. By translating engineering innovations from bench to bedside in this position, he hopes to contribute to the actualization of regenerative therapies that will improve standards of care and human health outcomes globally.
Jabari stated that winning the NSF fellowship was a huge honor. Although he will not accept the award, receiving such a prestigious offer has boosted his confidence to continue pursuing impactful research as an aspiring clinician-scientist. Jabari will apply for Medical Scientist Training Programs, which are federally funded and best suit his interest in translational medicine.
Amal Shabazz
Amal Shabazz is a first-year Ph.D. in Fisher's Tissue Engineering & Biomaterials Lab (TEBL). She is interested in using tissue engineering, biomaterials, and stem cells to create regenerative medicine solutions for healthcare-related problems. She enjoys having the ability to work on solutions that can directly impact patients' lives.
"[In the lab,] I have the opportunity to work with a skilled team to study and explore 3D-printing solutions for various applications. In my first year, I am focused on learning as many skills as possible," Shabazz said.
After graduation, her goal is to close the gap in health disparities in the scientific community's care and treatment of people of color. She would like to develop solutions that consider the treatment of different populations of people. After earning her Ph.D., she wants to continue research to work towards these solutions.
Shabazz is elated to have been chosen by the GRFP to represent the next generation of scientists within the STEM field. She is excited about the independence in research that comes with being a fellow. This opportunity will place her among an elite group of researchers and give her more opportunities for professional development beyond graduate school.
Published April 13, 2023