BIOE Students Recognized For Extraordinary Service in Pandemic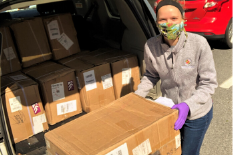 This year, the Fischell Department of Bioengineering's (BIOE) Advisory Board recognized six students with the Extraordinary Service Award.This award recognized Christina Conrad, Dhruv Patel, Vaani Shah, Angela Sun, James Shamul, and Alana Tillery for their outstanding acts of service during the COVID-19 pandemic.
"I wish to express our collective pride, gratitude, and humble appreciation for these students' service in response to the COVID-19 pandemic," says Advisory Board Chair Claudio Knizek. "This public health crisis has affected each of us in different ways. These students have faced particularly unique challenges; they have had to adapt to unprecedented changes to classes, to daily interactions with family and friends, and to their overall college experiences. Yet, when faced with these circumstances, the recipients of the Extraordinary Service Award responded with courage, selflessness, and empathy in support of the greater community. While their academic successes will create the foundation for successful careers in bioengineering, it is their kindness and their drive to help others that will carry them forward throughout life."
Ph.D. students Christina Conrad and James Shamul spearheaded a medical supplies drive to benefit area health care workers treating COVID-19 patients. The pair coordinated the collection of a slew of personal protective equipment (PPE) including thousands of disposable lab coats, gloves, N95 masks and goggles. "We decided that, if we worked together, we could get a lot of donations out to different places that needed it," says Conrad. "The donations have come from labs across campus – bioengineering, physics, biology, animal sciences, engineering, core labs, and more." Conrad is a member of Giuliano Scarcelli's Optics Biotech Laboratory group, and the president of the University of Maryland Bioengineering Graduate Student Society (BGSS). Shamul is a member of Xiaoming (Shawn) He's Multiscale Biomaterials Engineering Laboratory group.
Amidst the COVID-19 crisis, BIOE senior Dhruv Patel joined the Maryland Medical Reserve Corps and consistently assists the Montgomery County Department of Health and Human Services in delivering PPE to hospitals, essential child care providers, assisted living facilities, Adult Developmental Disability centers, and other essential organizations. He also volunteers at the Integrated Cellular and Molecular Diagnostics Lab to help manufacture test kits for deployment to EMS & Hospital workers. Patel and his brother are connecting with the Do Good Institute in hopes of developing a thermal camera-based screening device to mass screen populations for fever - a device he hopes could be put to use in local hospitals or public places where currently officials are checking temperatures manually.
Junior Vaani Shah organized a clothing drive in the Villages of Urbana to collect new and lightly used T-shirts for mask making. Shah has donated over 250 masks to Doctors Community Hospital in Lanham, MD, a hospital receiving a large inflow of patients from Prince George's County. Amidst the pandemic, she has also volunteered weekly at the Frederick Community Action Agency to pack bags with up to 3-5 days of food for underprivileged families in the area.
In April, BIOE freshman Angela Sun and her University of Maryland (UMD) classmates Tesia Shi and Kevin Tu launched a free online tutoring service for local children and families struggling with the online education transition. The group focused on serving parents and caregivers working as healthcare workers and frontline service providers. "It's a challenging job for any parent during this time to have to balance work on top of caring for their children, more so for those who still have to physically work and may be isolated from their family," says Sun. "I identified this issue and had initially just planned to offer my individual tutoring services to those in my neighborhood—my friends convinced me to make this bigger and we have matched over 58 K-12 students with our volunteer tutors, all of whom are incredible and wonderful UMD students! I spend about 3 hours every week working with my 1st grade and 10th grade tutees on homework, AP test prep, and general concept learning. Several of our tutors spend even more time weekly. For me, it's been a really exciting opportunity to help out my own community whilst maintaining social distancing and keeping my own family safe."
Junior Alana Tillery began volunteering at the Maryland Reserve Corps during the pandemic. Her service included facilitating blood drives, outreach events, and COVID screening in Prince George's County. She volunteers at COVID-19 testing centers full-time three days a week, as well as volunteering in a local emergency room. "I'm blown away by the community engagement, and I'm happy to help in any way that I can," says Tillery. She was also recently awarded the BIOE Outstanding Junior Award.
Published June 10, 2020