Bioengineering Students Spearhead Drive for Medical Supplies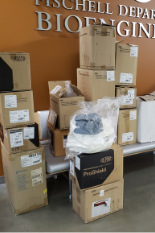 Fischell Department of Bioengineering (BIOE) Ph.D. students Christina Conrad and James Shamul have spearheaded a medical supplies drive to benefit area health care workers treating COVID-19 patients.
The list of most urgently needed donations includes personal protective equipment (PPE), ethanol, isoproponal, testing swabs, and hand sanitizer.
The department has collected 24,723 pairs of gloves, 17,825 face masks, 137 disposable lab coats, 108 N95 masks, 100 shoe covers, 19 glasses/goggles, 200 conicals, 320 coveralls, 500 hair covers, 500 utility drapes, 2 PVP scrub solutions, 4 hoods, 48 hand sanitizers, 1 reusable 3M mask, 1 gallon of isopropanol, 5 gallons of bleach, and 37 gallons of ethanol.
Donation collection began on March 22 and ramped up quickly thanks to the generosity of the University of Maryland community.
Conrad and Shamul's coordination efforts began after they saw a slew of social media posts noting a lack of PPE and test-kit supplies in Maryland. Conrad emailed BIOE faculty asking for donations.
"That email got forwarded by several faculty to their Ph.D. students," Conrad said. "One after another, various labs started emailing me about things they could give. So, we decided that, if we worked together, we could get a lot of donations out to different places that needed it. The donations have come from labs across campus – bioengineering, physics, biology, animal sciences, engineering, core labs, and more."
"We graciously thank the many labs and personnel at the University of Maryland who have donated supplies to help those in need," Shamul added. "There have been so many involved in this incredible effort!"
Thus far, the University of Maryland Medical Center, Johns Hopkins University Hospital, the Greater Baltimore Medical Center, the Prince George's County Hospital and Health Department, and the Brentwood Police Department have received donations from these efforts.
The Fischell Department of Bioengineering continues to collect medical supplies for donation. Contact Christina Conrad (cconrad8@terpmail.umd.edu) for details.
Conrad is a member of Giuliano Scarcelli's Optics Biotech Laboratory group, and the president of the University of Maryland Bioengineering Graduate Student Society (BGSS). Shamul is a member of Xiaoming (Shawn) He's Multiscale Biomaterials Engineering Laboratory group.
This story was originally published on March 30, 2020 and updated on April 20, 2020.
Published March 30, 2020