Angela Sun Co-Founds COVID-19 Tutoring Platform Alongside Peers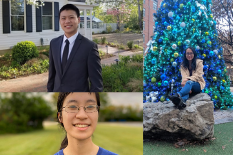 As schools across the world closed their doors and transitioned classwork to a virtual format, Fischell Department of Bioengineering (BIOE) freshman Angela Sun and her University of Maryland (UMD) classmates Kevin Tu and Tesia Shi launched a free online tutoring service for local children and families struggling with the online education transition. The platform, COVID-19 Tutoring, offers services that are focused on – but not limited to – serving parents and caregivers working as healthcare workers and frontline service providers.
"It's a challenging job for any parent during this time to have to balance work on top of caring for their children, more so for those who still have to physically work and may be isolated from their family," says Sun. "I identified this issue and had initially just planned to offer my individual tutoring services to those in my neighborhood—my friends convinced me to make this bigger and we have matched over 58 K-12 students with our volunteer tutors, all of whom are incredible and wonderful UMD students! I spend about three hours every week working with my first grade and 10th grade tutees on homework, AP test prep, and general concept learning. Several of our tutors spend even more time weekly. For me, it's been a really exciting opportunity to help out my own community whilst maintaining social distancing and keeping my own family safe."
COVID-19 Tutoring offers one-on-one sessions for general homework help and concept review, as well as weekly "office hours" throughout the week for students seeking additional support. Students learn about everything from chemical properties to Spanish conversational language to playing the alto saxophone.
"I was talking to Angela one day and she told me that she wanted to offer her time to teach kids around her neighborhood," explains Tu. "At the time, I was also considering tutoring, so we decided to work together to establish a program that would not only allow us to empower other students to tutor during the pandemic, but also have a much further reach than a few students working individually could have achieved." Tu is a Neurobiology and Economics double-major at UMD. In April 2020, Sun, Tu, and their friend Tesia Shi – a Psychology and Biology double major – launched the tutoring program online.
The trio aims to provide not just academic support, but also emotional support to students struggling to learn at home amidst the COVID-19 pandemic. "We hope that we made their transition to the online environment a lot smoother than a lot of ours were," says Tu. "As students, we can relate to the tutees for academic stress and be there for them if they need someone to listen. Overall, we just want to make the parents' and students' lives easier during the pandemic."
The three students – now sophomores entering the fall semester – quickly organized a group of 36 volunteer tutors. "Like many experiences, I often feel that it's the small moments that really stick with you," Sun said. "I tutor a first grader who is very clever, but who understandably has trouble with the online learning environment because he quickly gets frustrated with concepts that he can't understand, and so opts to just ignore those types of problems and focus on the ones that he's good at. Once, we were working on a particular one of these skills he was having trouble with – I believe it was counting by 10s – and he was getting very frustrated. I tried explaining it several different ways, and when it finally clicked, he yelled 'I get it now! Thank you so much!' I was taken aback at how sweet and thankful he was for this simple lesson."
Sun has volunteered in an educational setting extensively – from acting as a one-on-one geometry tutor to explaining concepts in reading comprehension to a room of 30-something rambunctious second graders. She cites the "human-centric" problem-solving aspect of bioengineering as what drove her to the course of study. Most recently, she has joined the Maryland Family Literacy Program (MFLC) as a mentor, designing and teaching a variety of literacy and educational advocacy workshops. The Maryland Family Literacy Program (formerly Partners in Print) provides a supportive environment where parents can learn how to better help their children learn to read. Mentors conduct evening workshops with parents and their kindergarten, first and second grade children.
Sun's experience with MFLC made her realize how critical a parent or guardian's role is in a child's education – and that largely shaped how she constructed the COVID-19 Tutoring platform. "This family-based model is something that I really had in mind when creating this tutoring service—for many parents struggling with work-life balance and trying to navigate through the complexities of online education," says Sun. "I hoped that this tutoring service would not necessarily replace their role as an advocate for their child's education, but that it would provide the resources and guidance to help ease the burden (especially for children of frontline service/health workers, which we prioritized finding tutors for). This is challenging in an online environment, and I think we still have ways to go—but I'm excited to workshop and improve our tutoring model so as to create a more impactful and beneficial experience for our tutees in the upcoming semesters."
Tu and Shi also share a passion for mental healthcare that drove their involvement as tutors. The pair recognized the vast mental health impact associated with the COVID-19 crisis, and joined forces with Sun.
Tu is a double-degree student in biological sciences and economics. He hopes to leverage this knowledge to minimize disparities in healthcare economics pertaining to victims of substance abuse. On campus, Tu is an enthusiastic member of satirical newspaper The Hare's staff, as well as CORA – short for "Combatting Overdoses in Rural Areas." CORA seeks to aid rural communities struggling with the opioid epidemic through education, overdose response training, technology, and advocacy. "Maryland has the third highest mortality rate due to opioid overdose, and while cities have benefited greatly from public health initiatives, rural families have continued to be ravaged by the epidemic," explains Tu. "CORA wants to change this by holding interventions in rural communities around Maryland to prevent opioid misuse and abuse, treat overdose, and help with addiction recovery. Our members will develop the necessary materials/modules needed for these interventions during the semester and deliver them during their breaks."
Shi is a double-degree student in biological sciences and psychology. She chose these two programs because she desired a "good STEM foundation" and wanted to learn more about psychiatric disorders. "Whatever I do, I want to be involved in mental healthcare in some way," she explains. "There's a lot of flexibility in that regard, from social work to counseling to research, and I'm not quite certain yet which road I'll take." The double-major is launching a new UMD organization called Lean on Me with the help of a few peers. The development will offer non-crisis, peer-to-peer anonymous support via a text line. Shi is also an outreach peer at UMD's Campus Advocates Respond and Educate to Stop Violence (CARE).
In June, as Sun completed her freshman year coursework, she was honored by the BIOE Advisory Board with the Extraordinary Service Award. She thanked the 36 tutors who contributed their own efforts for their tireless dedication.
Now, the COVID-19 Tutoring founders are transitioning the service into a UMD student organization called the Every Child Project. "We hope the Every Child Project will similarly provide free, accessible tutoring to those in need through and beyond the pandemic," Sun explains.
"When I had the idea for this tutoring service, I was hesitant to go forward with it because I was so convinced that I didn't have what it took to start from scratch and create an organization of my own," admits Sun.
"Having now gone ahead and done it though, I recognize that leadership is very much like the engineering design process—it's all very much trial and error, and inevitably, you'll often end up going back to the drawing board to rethink your course of action. This has given me a great deal more confidence in moving forward, as a student leader and as someone who hopes to aspire to leadership in the medical field."
Published September 8, 2020