Maryland engineers receive $10M to transform shellfish farming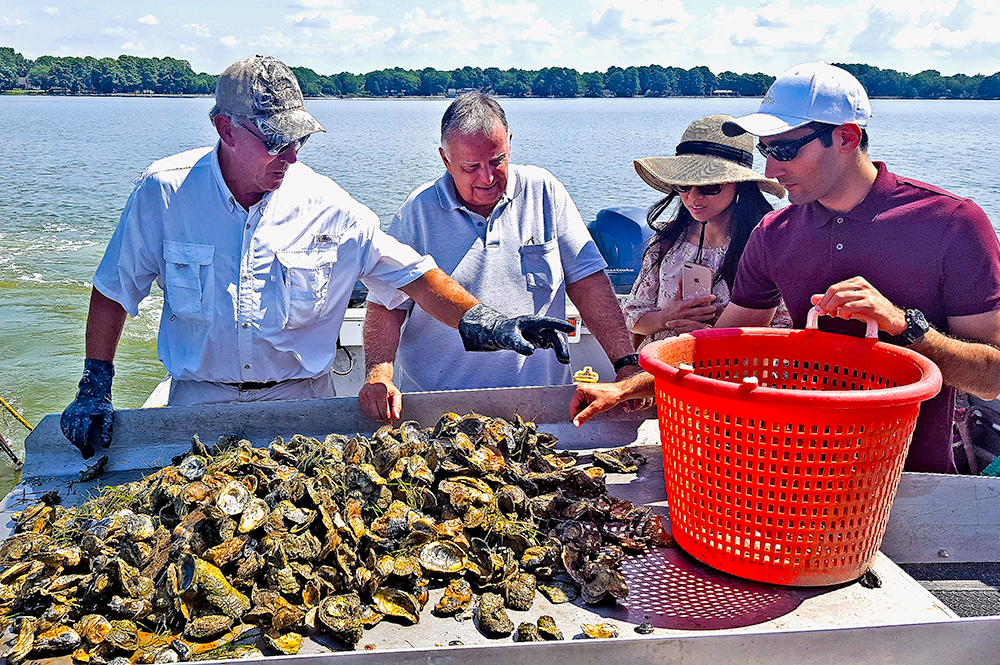 A multidisciplinary team led by engineers at the University of Maryland (UMD) has received a $10 million grant from the United States Department of Agriculture (USDA) National Institute of Food and Agriculture (NIFA) to accelerate sustainable shellfish aquaculture in the United States.
The team, led by Professor Miao Yu of UMD's A. James Clark School of Engineering, will develop novel technologies and a sustainable management framework to help farmers tap the economic potential and environmental benefits of shellfish aquaculture, which until now has been bottlenecked by outdated tools and methods.
"Aquaculture of shellfish such as oysters, mussels, and scallops provides a sustainable, environmentally beneficial source of high-protein food, as well a way to grow the economy in rural coastal areas," said Yu, who will lead the multi-institutional team of engineers, biologists, computer scientists, economists, and educators. "Up to this point, we haven't really explored this industry's potential because it still relies on antiquated technologies—in some cases, tools that go back hundreds of years.
"By developing and incorporating advanced technologies into shellfish farming, including the use of underwater drone monitoring and smart harvesting, we can bring about a major boost in production," Yu said.
The team—representing extensive expertise in sensing and imaging, robotics and artificial intelligence, automation for agriculture and seafood, aquaculture extension economics, shellfish biology, and software development—includes UMD collaborators from the A. James Clark School of Engineering; College of Agriculture and Natural Resources; and College of Computer, Mathematical, and Natural Sciences as well as researchers from the University of Maryland Center for Environmental Science (UMCES), University of Maryland Eastern Shore (UMES), Louisiana State University (LSU), Pacific Shellfish Institute, Virginia Polytechnic Institute and State University (VT), and Fraunhofer USA Center for Experimental Software Engineering.
Aquaculture of shellfish is perhaps the most ecologically sustainable form of aquaculture, as well as an important driver of coastal economy. The Food and Agriculture Organization of the United Nations (FAO) has ranked the U.S. high for potential industry growth of this high-quality and nutritious protein source, but the industry lacks the basic technological advancement found in today's digital, automated world.
"We need to modernize the technology used in shellfish aquaculture, which is decades if not centuries behind the technology used in land agriculture," said Clark School Professor Yang Tao, a collaborator on the grant. "Drone-based technologies for crop surveying and early disease detection. Vision-guided crop cultivation. GPS-guided harvesting. These technologies exist for land agriculture; why shouldn't they for shellfish aquaculture, too?
"It's a great opportunity for us to help the coastal communities of the U.S. and Maryland, including the Atlantic, Pacific, Gulf, and Chesapeake," Tao said.
Current practices and technologies used in shellfish farming have many shortcomings. For example, harvesting of bottom-culture shellfish relies on dredging, in which machinery drags a net across the bottom of an ocean, bay, or other body of water to scrape up and collect buried shellfish. The process is highly imprecise and can be ecologically catastrophic by damaging reefs, which are important habitats for oysters and other aquatic species.
By synthesizing recent advances in the fields of robotics, agricultural automation, computer vision, sensing and imaging, and artificial intelligence, the team will develop new, smart technologies and a management framework to help enhance productivity and profitability for both farmers and coastal economies while better protecting fragile aquatic ecosystems.
"It's a great opportunity for us to help the coastal communities of the U.S. and Maryland, including the Atlantic, Pacific, Gulf, and Chesapeake."
"We have extensive experience in drone navigation and object recognition, but this project will give us the opportunity to develop new techniques and theories for underwater computer vision and robotics. The underwater environment is very noisy with poor lighting, which presents many challenges we'll have to overcome to be successful," said Yiannis Aloimonos, a collaborator on the grant and UMD professor of computer science with a joint appointment in the University of Maryland Institute for Advanced Computer Studies.
One such example the team hopes to implement is smart precision oyster harvesting. This process would combine advanced technologies to overcome some of the challenges unique to seafloor farming.
"In land agriculture, tractor operators use visual cues such as rows of crops to achieve precise harvesting; however, there are no geo-visual cues available for shellfish farmers. This, coupled with the inaccuracy of naval GPS, leads to disorganized and wasteful dredging paths," said Tao. "A smart dredging process that incorporates available, modern technologies such as real-time, high-precision GPS, underwater imaging and sonar positioning, and advanced environmental sensing would help—and these are solutions within reach."
The research team notes the significance of a Maryland-led effort. Oysters have a long and treasured history in the Chesapeake Bay region, and the aquaculture industry is growing rapidly in Maryland. According to the Chesapeake Bay Foundation, the Chesapeake Bay's oyster aquaculture industry is growing at about 15 percent a year and represents hundreds of farmers.
"Oysters—including those being grown in farms—improve the environment, so the expansion of the industry will also benefit the Chesapeake Bay's health," said Matthew Gray, an UMCES assistant professor and collaborator on the grant. "We're excited to see how technology can improve production while at the same time making that production more ecologically sustainable or even beneficial to the environment."
Through their long-term involvement and discussions with the oyster aquaculture industry, the UMD Extension team has assessed the stakeholder needs from the nationwide bottom-culture shellfish sector. They will work to formalize this network through the development of an advisory board, which will also serve as a way to schedule field trials for the equipment in hydrographically diverse locations to ensure test results that can be applied across broad areas.
"Shellfish growers need advanced technology, like that now used by land-based farmers, to increase production and expand output to provide quality food for the nation. Bringing robotics, along with other high technology, to shellfish farming will allow them to be more competitive and profitable while working in an environment that is underwater," said Don Webster of UMD Extension, a collaborator on the grant.
The team's education partner, UMES, is a historically black and 1890 land-grant institution. Through this partnership, the team plans to prepare undergraduate students, particularly socially and economically disadvantaged and first-generation college students in rural coastal areas, to become a skilled workforce in the American aquaculture industry. Maryland 4-H will serve as an additional education partner by developing and delivering a summer camp and robotics competition.
###
Professor Miao Yu is a faculty member of the Clark School's Department of Mechanical Engineering and Institute for Systems Research; this effort is inspired by her earlier initiative on Do Good Robotics, which she put together and pursued as former director of the Maryland Robotics Center. Professor Yang Tao is a faculty member of the Clark School's Fischell Department of Bioengineering and director of the Bio-Imaging and Machine Vision Lab.
Additional team members are Yiannis Aloimonos (UMD), Nikhil Chopra (UMD), Don Webster (UMD), Matt Parker (UMD), Cathy Liu (UMD), Matthew Gray (UMCES), Yuanwei Jin (UMES), Brian Callam (LSU), Bobbi Hudson (Pacific Shellfish), and Jonathan van Senten (VT).
The A. James Clark School of Engineering at the University of Maryland serves as the catalyst for high-quality research, innovation, and learning, delivering on a promise that all graduates will leave ready to impact the Grand Challenges (energy, environment, security, and human health) of the 21st century. The Clark School is dedicated to leading and transforming the engineering discipline and profession, to accelerating entrepreneurship, and to transforming research and learning activities into new innovations that benefit millions. Visit us online at eng.umd.edu and follow us on Twitter @ClarkSchool.
Published September 4, 2020