White Lab Reviews Point-of-Care Diagnostics to Combat Pandemic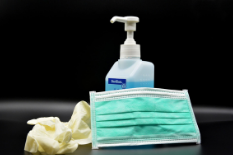 Despite decades of advances in diagnostics research, the COVID-19 pandemic has revealed a lack of diagnostic solutions that can keep pace with the rapid spread of a virus. Scientists and microfluidic experts have long dedicated efforts towards research and development of point-of-care diagnostics – but at the onset of the COVID-19 pandemic, no commercial products were available to deliver rapid results or enable testing in the field.
Fischell Department of Bioengineering (BIOE) third-year Ph.D. student Micaela Everitt recently served as first author of an Analytica Chimica Acta review paper titled "A critical review of point-of-care diagnostic technologies to combat viral pandemics." BIOE Associate Chair and Professor Ian White (REFI) and student researchers Alana Tillery, Martha David, Nikita Singh, and Aviva Borison co-authored the paper. These students work alongside Everitt in White's Amplified Molecular Sensors Laboratory.
"The pandemic has definitely made it abundantly clear how important diagnostics are and how crucial they are to mitigating spread of disease," explains Everitt. "Especially at the beginning of the pandemic, when COVID-19 tests were pretty hard to come by, people who were not used to thinking about accessibility to health care realized the repercussions of inaccessibility. And even those who were able to receive a test sometimes didn't get results back for weeks."
Ideally, people deemed essential workers during the pandemic would be tested for the coronavirus every 1-2 days to avoid disease transmission.This system would require tens of millions of rapid tests to be performed – and have results delivered – in the United States every day. In reality, sufficient testing cannot reach this level of availability or accessibility. The vast majority of diagnostic tests for viral pathogens are performed in reference labs or large commercial labs. While the test itself is brief, the need to ship the sample to the centralized facility – where it may wait in a long queue for testing (due to the low number of testing labs per capita) – implies that results are generally delivered to patients and public health officials within days instead of minutes.
The review article notes shortcomings of diagnostics labeled "point-to-care" amidst the pandemic. "These diagnostics aren't truly point-of-care friendly unless they are single-step and all the user has to do is input a sample and wait to receive results," says Everitt. The team stresses the importance of "sample-to-answer" diagnostics, which would require that any sample preparation steps be automated and integrated into the device. It asserts that sample preparation is currently the biggest roadblock to large-scale deployment of point-of-care diagnostics. Current methods of sample preparation also hinder testing speed and throughput, while keeping test prices unnecessarily high.
Researchers have developed many COVID-19 testing solutions, but they have all been developed in unusually rapid time scales and none are perfect. Now, it is critical for researchers and the industry to learn from each other and continue to perfect the technologies available for rapid diagnostics.
"While the diagnostics community has talked about 'point-of-care' for decades, the urgency of the COVID-19 pandemic has forced us to focus intensely on the true barriers to practical implementation," says White. "For example, research and development efforts on at-home tests have been ongoing for years, but the urgent response to COVID-19 is making these systems real. I expect that this sudden technological progress will be applied to other critical viral diseases, such as Ebola, influenza, hepatitis, and more."
Read the full review paper, "A critical review of point-of-care diagnostic technologies to combat viral pandemics."
Published March 30, 2021