BioWorkshop, Bruker Co-Host BioAFM and nanoIR Workshop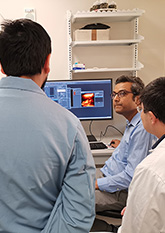 The BioWorkshop and Bruker co-hosted a BioAFM and nanoscale infrared (nanoIR) spectroscopy workshop on Thursday, Sept. 26.
"The BioWorkshop features a range of cutting-edge research tools. Offering workshops and hands-on training for researchers on and outside our campus is important as it really helps folks leverage these capabilities in pushing their work forward," says BioWorkshop Core Director and Fischell Department of Bioengineering associate professor Chris Jewell. "Partnering with Bruker provides an opportunity for users to interact with a real specialist on the BioAFM."
Attendees learned about new advances in the nanocharacterization of soft materials with atomic force microscopy (AFM), BioAFM, and nanoIR. The workshop drew more than three dozen guests from the University of Maryland, the National Institutes of Health (NIH), and the National Institute of Standard and Technology (NIST).
Many of these guests brought a wide range of samples including nucleotide/peptide particles, mouse tissue, 3D-printed materials, and tumor modules to experiment with the Bruker JPK Nanowizard 4a Bioscience AFM instrument. The microscope measures material surface topography, stiffness, and stickiness at atomic resolution.
The microscope also offers fast scanning (up to 100Hz) with a scan range of 100μm. JPK's unique design enables imaging samples in liquids under physiological conditions. Bruker application specialists advised attendees on their use of the instrument.
BioWorkshop Core Manager Sijie Hao elaborates on the functionality of the instrument: "BioAFM is one of the novel, advanced instruments in the BioWorkshop that's unique. It helps to bring biomaterial characterization down to atomic scale." The BioWorkshop's BioAFM is one of the most useful AFM options to characterize biological materials.
Published October 2, 2019