Duncan Receives UMD Coronavirus Seed Fund Award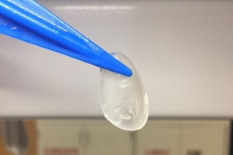 Fischell Department of Bioengineering (BIOE) Assistant Professor Gregg Duncan and members of his Nanoscale Interfacial Biology and Engineering Laboratory are working to develop a wearable bioaerosol sampler device that could determine if a person has been exposed to COVID-19, even before they show symptoms. Duncan and his group were named the recipients of a University of Maryland Coronavirus Seed Fund Award to advance their efforts.
Bioaerosols are tiny airborne particles that either contain living organisms – such as bacteria or viruses – or were released from living organisms – such as pollen or dander. While scientists have long collected and studied bioaerosols to learn more about their impact on human health, none of the collection media used today in bioaerosol sampling has been specifically designed for the isolation of virus particles.
To address this, Duncan and his lab are working to develop a bio-inspired hydrogel filtration media that mimics how the body's own mucus "catches" inhaled virus particles and other pathogens in efforts to prevent infection. One of the group's main objectives is to develop wearable bioaerosol sampler devices that can efficiently capture airborne COVID-19 particles. The team's hope is that hospital staff and other frontline workers could wear the devices to determine if they have been exposed to the virus, even before they exhibit symptoms.
Vice President for Research Laurie Locascio, a BIOE professor, invited proposals from across campus that utilize the University of Maryland's research strengths to rapidly contribute to human health and related outcomes with respect to COVID-19, including prevention, control, and response efforts. Duncan and his research group are among 11 recipients of the grant.
"We are pleased to identify these promising projects for support, which will leverage University of Maryland faculty expertise to help address urgent health needs related to COVID-19, in service to our state and our nation," Locascio said.
For more information about this project and other COVID-19-related research put forth by the A. James Clark School of Engineering, please visit clark.covid.umd.edu.
Published April 27, 2020