BIOE Faculty Members Jewell and Scarcelli Promoted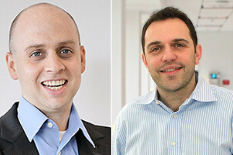 The Fischell Department of Bioengineering (BIOE) congratulates two members of our faculty on their promotions within the department. Effective July 1, 2020, Chris Jewell will transition to the role of Professor and Giuliano Scarcelli will become an Associate Professor.
Jewell is the Minta Martin Professor of Engineering, the BIOE Associate Chair for Research, an affiliate faculty member of Immunology & Microbiology at the University of Maryland (UMD) Medical School, and a full member of the Tumor Immunology Research Program at the UMD Marlene & Stewart Greenebaum Cancer Center. He is also the Director of the BioWorkshop core instrumentation facility, a Research Biologist with the United States Department of Veterans Affairs, and a Fellow of the American Institute for Medical and Biological Engineering (AIMBE).
Jewell's research integrates immunology and biomaterials to decipher the interactions between synthetic materials and immune tissues. His Immune Engineering Lab also uses these unique expertise to improve therapeutic vaccines for cancer and autoimmune diseases such as multiple sclerosis and type 1 diabetes.
"It's been an exciting adventure the past eight years starting and growing my lab," says Jewell. "All the support from the department, college, and campus has been invaluable. Really everything we've accomplished is a result of the hard work and dedication of an incredibly talented group of current and past lab members. I'm super excited about the next phase of pushing our work toward clinical translation. It's also really fun to see trainees move on to their own next phases and the great things that are sure to follow."
Some of Jewell's others honors include selection as a Damon Runyon-Rachleff Innovator, receipt of the National Science Foundation (NSF) CAREER Award and the Presidential Early Career Award for Scientists and Engineers (PECASE), appointment as an Associate Scientific Advisor for Science Translational Medicine, receipt of the NSEF Young Investigator Award and Owens Corning Award from the American Institute of Chemical Engineers (AIChE), and selection as the University of Maryland's Graduate Faculty Mentor of the Year. The researcher and educator was also honored as the state of Maryland's Outstanding Young Engineer by the Maryland Academy of Science, the state's highest honor for an engineer under 36.
Scarcelli is a physicist specialized in optical science and technology development, as well as the principal investigator of the BIOE Optics Biotech Lab. He joined the BIOE faculty as a tenure track assistant professor in January 2015.
Scarcelli and his laboratory group's research involves investigating the interaction of light and matter and developing novel technology for biological research and clinical medicine. Specifically, his research efforts are on: 1) developing imaging modalities to map properties including mass, stiffness, viscosity that are difficult or impossible to measure with traditional techniques but with important biomedical applications, 2) studying what light is at a fundamental level for the understanding of light interaction with tissue, cells, and biomaterials, and 3) developing advanced optical technology and instruments for biological research and clinical trials. Scarcelli and his team have conducted interdisciplinary research internationally in the fields of ophthalmology and cell biomechanics.
"I have been so lucky in terms of personnel joining my group," says Scarcelli. My first hire, Dr. Jitao Zhang has been amazing since day one at UMD. All other postdocs and graduate students have always performed at such a high level. Maryland has been such a supportive home....within the department, the college and the university."
Recent accomplishments of Scarcelli's include his receipt of the NSF Career Award and the A. James Clark School of Engineering Outstanding Junior Faculty Member Award. Scarcelli's utmost impact is the initiation of a novel field on Brillouin microscopy. His groundbreaking contribution (Nature Photonics 2008) and development (Nature Methods 2015) has now flourished and become a known optical imaging modality that tens of university labs are adopting worldwide. Companies are starting to commercialize using the technology he created; the European Union has recently funded a BioBrillouin network of labs in 21 countries dedicated to boost the penetration of this technology within the bio community. This growing community considers Scarcelli as the pioneer in the field.
Published June 3, 2020