Christopher Jewell Receives NSF CAREER Award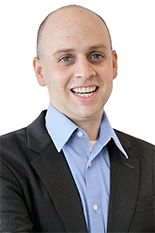 Fischell Department of Bioengineering Assistant Professor Christopher Jewell was selected for a five-year, $438,000 National Science Foundation (NSF) Faculty Early Career Development (CAREER) award for his vaccine design and immunotherapy research.
Jewell, who also serves as principal investigator for the Jewell Research Lab, is exploring how different biomaterials—such as those present in many experimental vaccines and immunotherapy treatments—interact with the immune system. Jewell's team is using a new approach to study how different structures, concentrations, and combinations of biomaterials affect the organization and function of lymph nodes—the tissues that control immune response. All vaccines must reach lymph nodes to be effective, so the results of their research could lead to new biomaterials that serve not only as carriers, but also as materials that help tune immune response to fight particular diseases.
The Jewell lab team studies polymeric carriers that are important to the vaccine field, as well as new materials they are testing as improved vaccines. Through this research, the team hopes to uncover the reasons why some polymers work effectively as vaccine carriers, while others do not. Additionally, Jewell and his team study how the effectiveness of traditional vaccines—those that do not feature polymeric carriers—compares with that of vaccines that harness these new materials.
Along with his contributions to the biomaterials vaccine field, Jewell was also recognized for his role in helping to launch two new bioengineering programs at Wheaton High School in Silver Spring, Md.
The first program, established for the Biosciences Academy at Wheaton, featured a three-week module through which nearly 70 high school students worked in partnership with Fischell graduate students and postdoctoral researchers, who served as mentors, to create lessons about vaccines and conduct experiments in the Jewell lab.
The second program, established for the Biomedical Magnet Program at Wheaton, provided a select group of 20 students with a yearlong opportunity to learn about the research process by focusing on a bioengineering topic of their choosing. Selected topics include the use of stem cells to treat brain damage, therapies for multiple sclerosis, and biomechanics in sports medicine. Additionally, each program participant is partnered with a Fischell student or postdoctoral mentor, and tasked with interviewing experts, reading scientific literature and writing a review article. Each student will also develop a poster to be presented during a symposium in the Clark School's Kim Engineering Building rotunda later this spring.
The goal of the program is to not only provide high school students with an opportunity to delve into bioengineering topics, but to also help students learn about science and engineering career opportunities, and to provide opportunities for research internships, Jewell said. Additionally, the program provides Fischell graduate students and postdoctoral researchers with an opportunity to gain invaluable scientific management and mentorship experience.
Published March 25, 2014