Evensen Creates DIY COVID-19 Masks, Fundraises for Virus Relief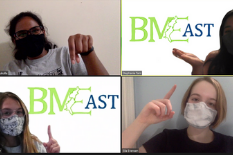 When Fischell Department of Bioengineering (BIOE) rising sophomore Ella Evensen's Biomedical Engineering Alliance (Case Western University/Cleveland Clinic) summer internship went virtual due to the COVID-19 pandemic, she decided to focus her work on masks that could help slow or prevent the spread of the novel coronavirus.
Just two months later, Evensen's project has already proven an outstanding success, raising more than $500 for COVID-19 relief funds.
At the start of her virtual summer internship, she partnered with three biomedical engineering students – Pravalika Irukulla (University of Georgia), Elizabeth Recker (Florida Gulf Coast University), and Stephanie Tam (Worcester Polytechnic Institute) – to form the "BMEast Masks" research team.
"Our team spent several weeks making prototypes and designing a mask that would be both comfortable and have a high filtration efficiency," explains Evensen. "We realized that our idea could reach more people and do more good if we shared how to make the mask using what we learned through the design process, rather than trying to make and sell each one individually."
The group spent hours researching past studies on filtration efficiencies, and found that a combination of mechanical and electrostatic filtration methods would maximize how effective the masks could be in slowing or preventing spread of the coronavirus.
The BMEast Masks team designed their mask to be lightweight and breathable, encouraging people – particularly college students returning to campus – to continue wearing their masks. The masks are constructed with one layer of cotton and two layers of chiffon (cheap, accessible materials) and are easy to assemble. Most importantly, by layering these materials, the mask incorporates both mechanical and electrostatic filtration to achieve maximum filtration efficiency, the group noted in their video. When assembled with a customizable, flexible seal, the BMEast Masks team estimates that their design could perform just as well, if not better, than today's top-performing masks under the same circumstances.
Mask assembly instructions are available to be shipped to anyone who donates any amount to the BMEast Masks GoFundme. All donations go to support COVID-19 relief funds. Already, the group has donated $500 to the Centers for Disease Control and Prevention, and they are currently raising money to support Doctors Without Borders, an international humanitarian organization best known for disease outbreak projects. Each time the BMEast Masks project raises $500 for a selected organization, the team identifies a new organization for which they wish to dedicate support.
Evensen and her team's primary objective is to encourage the continued use of masks during the COVID-19 pandemic. "Our goal is that someone who's never sewn before would be able to pick this up and follow along, and even make it for friends and family as well as themselves," she says. "I hope that college students in particular feel they can gain a valuable skill, and to be confident in the protective quality of their mask without having to order it from a big business."
Visit the BMEast Masks Instagram account for more information, or make a donation to receive mask assembly instructions via GoFundme.
Published August 21, 2020