Patel Developing Auto-Thermal Recognition Device in Pandemic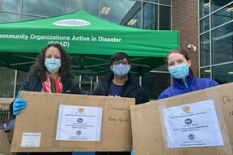 Fischell Department of Bioengineering (BIOE) Class of 2020 graduate Dhruv Patel was recently honored with the departmental Extraordinary Service Award, recognizing his outstanding leadership and volunteerism during the COVID-19 pandemic.
A high school internship in former BIOE Professor Ben Shapiro's Control of Miniaturized Systems laboratory group piqued Patel's interest in bioengineering. The then-high school-junior experienced first-hand how scientists and engineers from the fields of chemistry, physiology, systems and aerospace engineering worked together to enhance human health. "I felt empowered to know innovations and science we developed in the lab could have a drastic impact on patients' lives around the globe, and was excited to play a small role," Patel remembers.
When the COVID-19 crisis struck, Patel began volunteering with the Maryland Medical Reserve Corps and the Montgomery County Department of Health and Human Services. He continues to deliver personal protective equipment (PPE) to hospitals, essential child care providers, assisted living facilities, adult developmental disability centers, and other essential organizations to date. The recent graduate also volunteers at the Integrated Cellular and Molecular Diagnostics Laboratory in Greenbelt, MD to manufacture coronavirus test kits for emergency medical service and hospital workers.
After a few weeks of volunteering on the front lines of the pandemic, Patel began to think about developing his own technology to aid health care workers. "Through the news and conversations I had with professionals like nurses, I saw how having one's temperature checked before entering public areas like hospitals, airports, and other places was becoming more commonplace," Patel remembers. "I also noted how bigger institutions like airports were more likely to have sophisticated equipment to perform this screening through automated cameras, cloud backup/storage, and other features, however smaller organizations like hospitals might have someone manually check each person's temperature before entering the building."
Dhruv Patel and his brother Kavi Patel began to develop an automatic thermal recognition device. The brothers used cost-affordable, scalable, and accessible tools so that the technology could be used in localized and resource-limited environments, while still protecting persons' privacy. They reached out to the University of Maryland Do Good Institute for connections to leaders in the field and donors. The pair hopes to develop additional features to the device in the future - including detection of cyanosis, a bluish discoloration of the skin resulting from poor circulation or inadequate oxygenation of the blood. Their goal is to implement the device in local hospitals or public places where officially are currently checking temperatures manually.
"I hope my efforts, along with the efforts of all the volunteers at the Maryland Medical Reserve Corps and other organizations can help alleviate just some of the pain and challenges our communities face right now," says Dhruv Patel. "I am truly humbled to have been recognized by the department for my small role during the crisis. I am honored to have been part of a larger cohort of other driven and motivated individuals."
Published June 23, 2020