Secretary of State: 'Domestic Renewal' Needed Through Infrastructure Investments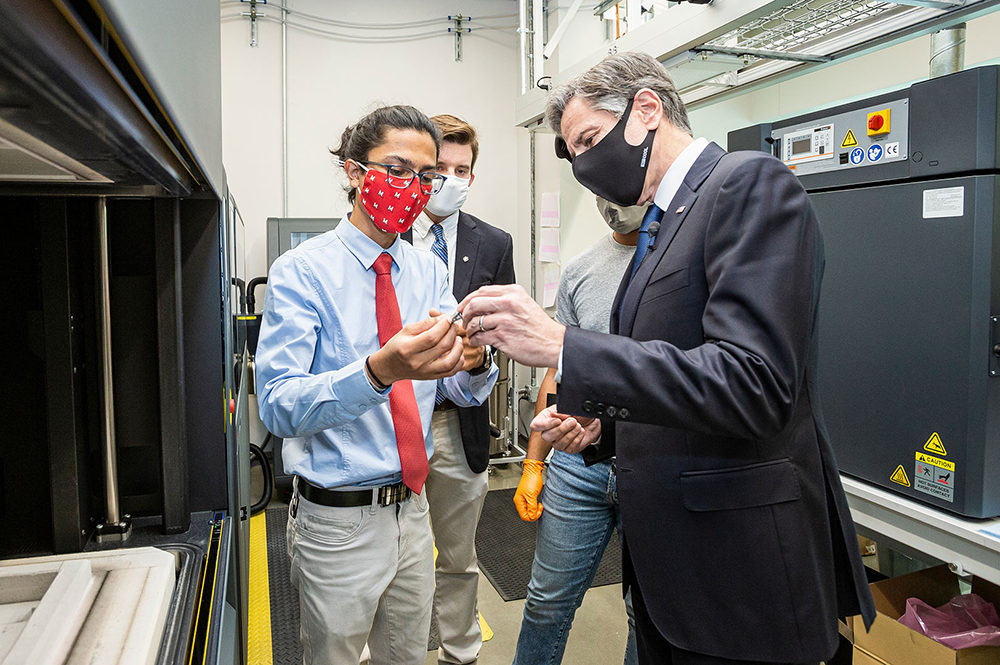 With engineering labs at his back and tussles over trillions of dollars taking place on Capitol Hill, Secretary of State Antony Blinken argued at the University of Maryland on August 9 that maintaining the nation's status as a leader abroad will require dramatic new investments at home.
Describing a world in which boundaries between domestic and foreign policy have fallen away, Blinken said America's diplomatic strength, national security, and ability to hold up the standard of democracy against rising tides of authoritarianism and nationalism hinge in part on public spending for education, transportation, and other vital infrastructure.
His speech followed a meeting with students and a tour of 3D printing facilities in the Advanced Fabrication Lab in A. James Clark Hall, accompanied by University of Maryland President Darryll J. Pines and Jelena Srebric, acting associate dean for research of the A. James Clark School of Engineering. Other politicians in attendance included U.S. Rep. and Majority Leader Steny Hoyer '63, U.S. Sen. Ben Cardin, U.S. Sen. Chris Van Hollen, and state Sen. Jim Rosapepe.
"The innovation happening here and at thousands of colleges and universities across America is a huge source of our strength—and whether America protects and invests in our strength at home is going to determine whether we remain strong in the world and deliver results for the American people," he said.
The speech took place as a $1.2 trillion infrastructure federal infrastructure bill was pending that would target everything from roads and bridges to broadband internet. The White House and its congressional allies hope to package that legislation with separate $3.5 billion budget rolled out today that, among other provisions, would cover universal pre-K; expand Medicare to include dental, vision and hearing; and grow investments in clean energy.
Blinken at times portrayed a nation essentially coasting on crucial investments made decades ago. U.S. public investment has dropped some 40% as a share of the economy in recent decades, he said, while infrastructure spending by the Chinese government outstrips the U.S. threefold.
"Our domestic renewal and our strength in the world are completely entwined," Blinken said. "And I'm here to tell you that we could be doing better. That is the hard truth. We're falling behind where we once were in the world, and our rivals, slowly but surely, are pulling close behind us. In some areas they're already ahead of us."
Authoritarian governments are pushing the narrative that the United States is in decline, and that their systems can better meet the needs of the future, Blinken said.
"Nothing would put to rest faster their specious argument about America's best days being behind us, than if the United States made serious investments in our domestic renewal right now," he said. "It's a lot harder to say a country is in decline when you're watching it become stronger, more effective, more united before your very eyes."
In his introduction of Blinken, Pines said UMD's cutting-edge laboratories and research—supported both by vital government and private funding—are helping to answer the array of grand challenges the United States and world face.
"Through our billion-dollar research enterprise, the University of Maryland is leading transformative advances in areas ranging from clean energy; quantum science and technology; cybersecurity, computer and information science; revolutionary new materials; and human health," Pines said. "The world is a better place because of research born out of University of Maryland and its labs."
This story originally appeared on Maryland Today.
Published August 10, 2021