Clark School, Alumni Association to Host Alumni Cup Competition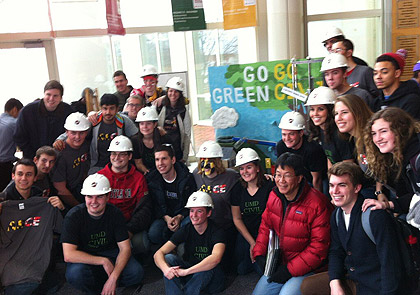 The Engineering Chapter of the University of Maryland Alumni Association and the Clark School of Engineering will host the annual Alumni Cup on February 21, 2014, from 2-4 pm in the Jeong H. Kim Building Rotunda. Teams of undergraduate students from each department in the Clark School will compete against one another in a week-long challenge to develop a machine that will perform a specific task within certain parameters.
The task and parameters will be given to each team on the Friday before Engineers Week (E-Week), this year on February 14, 2014. Students will have approximately 7 days and a small stipend to design, sketch, and build the best machine within their ability to reflect their department. The judges' panel, consisting of 5 individuals from both the Clark School administration and the Alumni Association, will judge the teams on design, presentation, and team spirit. The winning team will be memorialized on the Alumni Cup trophy to be displayed in the west lobby of the Glenn L. Martin Hall.
The Engineering Chapter of the UMD Alumni Association started the Alumni Cup in 2012 in order to generate Clark School pride, Alumni Association recognition, and a fulfilling E-Week Activity. Since then, hundreds of students have put their problem-solving abilities to the test to create innovative machines that fulfill competition requirements.
For more information, contact Elisabeth Goldwasser at esgold@terpalum.umd.edu or Kevin Schoonover at schoonok@gmail.com.
Published February 5, 2014