Clark School Enters U.S. News Top 20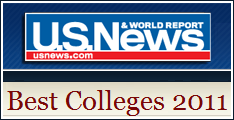 "I am very pleased to see the Clark School's undergraduate program begin to get the recognition it so richly deserves..."
In the
U.S. News & World Report
2011 edition of "America's Best Colleges" released today, the Clark School's undergraduate program is ranked 19th in the nation among all engineering programs—the first time the school has entered the Top 20 in this survey. The Clark School was tied at 19th with Rice University and UCLA.
Among public programs, the Clark School ranked 9th—also the first time it has entered the Top 10 of public schools.
The Clark School's Department of Aerospace Engineering was ranked 9th, down from 6th last year, and the Department of Mechanical Engineering was ranked 19th, its first time in the top 20.
In congratulating the school's faculty, staff and students, Dean Darryll Pines stated, "I am very pleased to see the Clark School's undergraduate program begin to get the recognition it so richly deserves. While the U.S. News survey has many shortcomings, and should be viewed as only one of several measures of a successful academic engineering program, it is gratifying to see the Clark School achieve this very special milestone."
Published August 17, 2010