Exceptional Engineering Students Recognized with Dean's Awards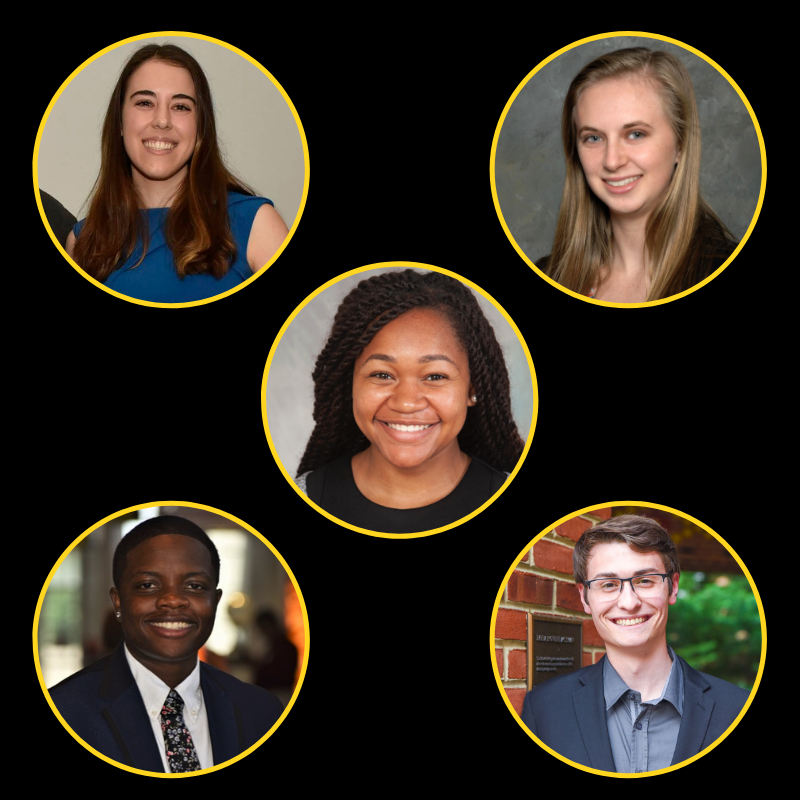 Seventy undergraduate students from the A. James Clark School of Engineering's academic departments and student services' units were honored at the 2019 Annual Engineering Honors and Awards Ceremony on April 17, 2019. This event recognizes students for their outstanding excellence in academics, leadership, and service.
Five of these students were honored with Dean's Awards, presented by Darryll Pines, Clark School Dean and Farvardin Professor.
Sara Pohland was awarded the Dinah Berman Memorial Award. Pohland is a junior electrical engineering student with a 4.0 GPA. She is a member of the Gemstone Honors Program, where she works with her team to develop a tactile feedback system for robotic surgery. She is also a Gemstone Program teaching assistant and steering committee member and is a part of the Engineering Honors Program. Pohland is a Clark School Ambassador, a performer for Gymkana, and a mentor for the Texas Instruments Peer Mentoring Fellowship. Additionally, she is a member of Alpha Omega Epsilon, Tau Beta Pi, and Omicron Delta Kappa.
Bryan Croce received the A. James Clark School of Engineering International Student Award, presented to a student who has demonstrated significant involvement in international engineering activities for the Clark School. Croce is a sophomore civil and environmental engineering student, minoring in International Engineering with a focus on Latin America. He is part of the Gemstone Honors program on Team CYCLE, researching how to implement locally sourced algae for heavy metal removal in stormwater runoff systems. In Engineers Without Borders, he is going into his second year as the project lead for a water supply project in Nicaragua. He has also participated in the Clark School's E4USA initiative.
The A. James Clark School of Engineering Leadership Award was presented to Christin Salley, a senior fire protection engineering student from Illinois. She is a member of the Ronald E. McNair Scholars Program, the NSF LSAMP Program, and the Black Engineers Society. She currently conducts research in the Fischell Department of Bioengineering and also at NIST through the Professional Research Experience Program (PREP). Salley is a volunteer and mentor for a STEM after-school program she co-founded with a fellow engineering Terp. She has been accepted to Johns Hopkins University to begin her studies towards a Ph.D. in civil engineering this fall.
Tytan Taliaferro is a junior bioengineering student and was honored with the Kim Borsavage and Pamela J. Stone Student Award for Outstanding Service. Taliaferro is a member of the University Honors Program and the Black Engineers Society and a peer assistant for Engineering Career Services, and has participated as a summer intern in the Women in Engineering Mentoring Program. Tytan has assisted on research at the U.S. Naval Academy Physics Laboratory and Bioinspired Advanced Manufacturing Lab. This summer, he has been accepted to intern at the Johns Hopkins Applied Physics Laboratory (JHU/APL).
The A. James Clark School of Engineering Dean's Award was awarded to Rachel Romano for scholastic excellence and demonstrated outstanding service and leadership to the Clark School of Engineering. Romano is a senior mechanical engineering major and sustainability studies minor with a 4.0 GPA. She earned her citation from the University Honors program and participated as a mentor in the SEEDS program for three years. She also traveled to Sierra Leone with Maryland Sustainability Engineering last winter. Romano currently serves as co-initiation chair for the UMD chapter of Tau Beta Pi, the engineering honor society, and works for Engineering Career Services as a peer advisor where she critiques resumes and leads workshops. Upon graduation, she will be working for MPR Associates.
Published April 29, 2019