BIOE Recognizes Undergraduate Awards Recipients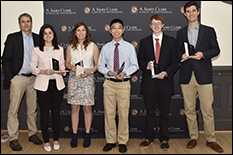 The Fischell Department of Bioengineering (BIOE) congratulates the recipients of the 2019 departmental awards and honors. This year's awardees were recognized at a spring 2019 ceremony featuring faculty and peers from across the Clark School.
Eric Wang was awarded the 2019 BIOE Outstanding Senior Award, which is presented to a senior on the basis of academic achievement and contributions to the profession and the department. Wang – who was also named a 2019 Churchill Scholar, 2018 Goldwater Scholar, and 2019 National Science Foundation Graduate Research Fellow – served as first or co-first author on seven published papers related to his cell membrane research with Department of Chemical and Biomolecular Engineering Associate Professor and Associate Chair Jeffery Klauda. Wang also served as a reviewer for the Journal of Physical Chemistry, an engineering teaching fellow, and a research mentor for high school students. Eric has been accepted to MIT for his Ph.D. studies, and will pursue a master's degree at the University of Cambridge as a Churchill Scholar.
Connor Hall was awarded the BIOE Outstanding Junior Award, which recognizes outstanding academic achievement and contributions to the department. Hall is a Banneker Key Scholar who received his Integrated Life Sciences Honors College Citation last fall. He also earned an ASPIRE award for his BIOE Honors project in BIOE Associate Professor and Associate Chair Ian White's Amplified Molecular Sensors Lab. Hall serves as head teaching assistant and curriculum consultant for HLSC322 Genetics and Genomics. He is the co-founder and president of the UMD chapter of the Society for Biomaterials. After working at Noble Life Sciences and Gemstone Biotherapeutics, Hall plans to pursue a career in biotech research.
Amelia Hurley-Novatny was awarded the BIOE Outstanding Research Award, in recognition of significant contributions to research, the department, and the bioengineering field. She is a senior in the Integrated Life Sciences Honors Program and is conducting an honors thesis in BIOE Professor and Chair John Fisher's Tissue Engineering and Biomaterials Lab for the departmental Honors Program. Her thesis is titled "Spatial Control of Growth Factors for Engineering the Bone-Tendon Enthesis." She has worked on numerous projects in her three years in the lab, and has presented her work at two conferences. After graduation, she plans to pursue an M.D./Ph.D.
Christopher Kuffner was awarded the BIOE Outstanding Citizen Award, in recognition of his significant contributions to the community, department, university, and bioengineering profession. Kuffner is a senior bioengineering student and a member of the International Genetically Engineered Machine (iGEM) team. He invented an affordable ultra-low freezer as an alternative to prohibitively expensive models and has built a biosensor to measure enzymatic plastic degradation. Kuffner also mentored other UMD iGem students, and the team was one of eight to win first place in the organization's national competition this year.
Fatima Mikdashi was awarded the BIOE Outstanding Leadership Award in recognition of her service to others. Mikdashi is a member of the University Honors College who completed the Entrepreneurship and Innovation Program and is pursuing a minor in Technology Entrepreneurship. She co-founded and currently co-leads the UMD chapter of Engineering World Health, which was internationally recognized as Chapter of the Year in 2018. Mikdashi is a member of the Women in Engineering student advisory board, an editor for bioengineering undergraduate research journal The Catalyst, and a journal club organizer for the bioengineering honors society, Alpha Eta Mu Beta.
Published May 1, 2019