Farvardin Named University of Maryland Provost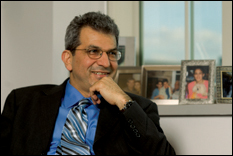 Clark School Dean Nariman Farvardin has been named senior vice president for academic affairs and provost of the University of Maryland, College Park campus, effective July 1.
Farvardin succeeds the current provost, William Destler, who also served as dean of the Clark School in the 1990s. Destler is leaving for the Rochester Institute of Technology, where he will become president this summer.
In his new position, Farvardin will serve as the university's chief academic officer with both programmatic and administrative responsibility for all academic programs.
"His extraordinary leadership, entrepreneurial spirit, support of students, and devotion to the University of Maryland are widely respected across the campus," said UM President C.D. Mote, Jr. "I look forward to working closely with him as the University continues its rapid rise into the ranks of the nation's premier academic institutions."
Published May 9, 2007