Hyland Takes 3rd in Biomaterials Symposium Poster Competition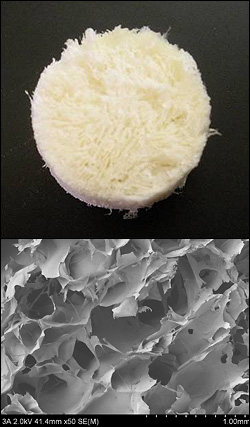 Fischell Department of Bioengineering Graduate student Laura Hyland, advised by Associate Professor Bruce Yu (joint, School of Pharmacy) won third prize in a poster competition at the Society for Biomaterials' Biomaterials Day Symposium, held at the Johns Hopkins Institute for NanoBioTechnology on October 29, 2010.
Hyland's presentation, titled "Mutually Reinforced Multi-Component Polysaccharide Networks," describes the development of a biocompatible scaffold—an environment designed to support the growth of new cells—for different tissue engineering applications, including cartilage replacement. The materials Hyland used to create the scaffold are inexpensive, derived from natural materials, safe, and easy to work with.
"Our scaffolds were initially made of chitosan, a bipolymer found in crustaceans, and alginate, a material extracted from algae and seaweed used to create flexible molds," Hyland explains. "Other research groups have made similar scaffolds but we added a third component to ours called chondroitin, a complex sugar that forms a gel-like material found in cartilage. We discovered that the chondroitin made the scaffolds stronger and more flexible."
Hyland conducted the research in Yu's Drug Delivery and Biomaterials Engineering Laboratory. Her next step is to observe how well cells grow and differentiate once implanted in the scaffold.
"The symposium was a great learning experience," she says. "The speakers were inspiring and presented interesting solutions to some of the problems surgeons are currently encountering."
For More Information:
Visit Professor Yu's homepage »
Visit the Johns Hopkins Institute for NanoBioTechnology web site »
Visit the Society for Biomaterials web site »
Published November 10, 2010