Casey, Behrens Publish Work on Hemostatic Polymer in Biomacromolecules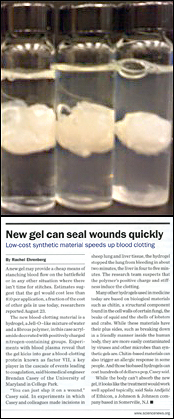 Fischell Department of Bioengineering graduate students Brendan Casey and Adam Behrens, advised by Professor Peter Kofinas, are the authors of a paper on their research group's blood-clotting polymer hydrogel published in the American Chemical Society's (ACS) high-impact
Biomacromolecules
journal. Casey originally presented the work at ACS's fall meeting in August 2010, where he was also interviewed for the September 2010 issue of ACS's
ScienceNews
.
The paper, "FVII Dependent Coagulation Activation in Citrated Plasma by Polymer Hydrogels," describes the most recent advances in the development of a hemostatic (blood clotting) gel designed to quickly stop hemorrhaging from deep wounds encountered in surgery or emergency situations in which hospital care is not immediately available. Trauma Solutions, an award-winning startup company co-founded by Kofinas, Casey, and Behrens, hopes to commercialize the product.
The current work explains how the mechanical properties and chemical composition of the gel act together to stimulate the effects of factor VII (a protein crucial to the blood-coagulation process), speed up clotting, and ensure the robustness of the clot.
"This manuscript represents years of experiments that Brendan performed with the assistance of Adam," says Kofinas. "I am excited that all this hard work finally paid off with a high-impact publication in one of the top-cited journals in the area of interactions of polymers with biological systems and their environments."
Casey and Behrens' co-authors on the paper include Professor John R. Hess, M.D. (Department of Pathology, University of Maryland School of Medicine), Associate Professor Zhongjun J. Wu and Professor Bartley Griffith, M.D. (Department of Surgery, University of Maryland School of Medicine), and Kofinas.
For More Information:
Visit Professor Kofinas' homepage »
Biomacromolecules: "FVII Dependent Coagulation Activation in Citrated Plasma by Polymer Hydrogels" »
ScienceNews: "New gel seals wounds fast" »
Published November 11, 2010