Kofinas Group Wins 2nd Business Plan Competition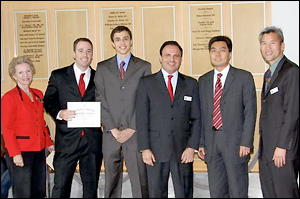 For the second year in a row, a startup company and product proposed by members of Fischell Department of Bioengineering (BioE) and Keystone Professor Peter Kofinas' research group and its collaborators have won the biotechnology division and $20K in start-up funding in the
Maryland Technology Enterprise Institute
's (MTECH) $75K (formerly $50K) Business Plan Competition. Team members represented startup company Haemechanics, which has developed the first and only synthetic hemostatic material capable of simultaneously inducing blood clotting and delivering therapeutics. The material is able to induce clotting as effectively as biologically based products at a fraction of the price.
Kofinas' Haemechanics teammates include Adam Behrens, undergraduate research assistant (Chemical and Biomolecular Engineering); Brendan Casey, graduate research assistant (BioE); and recent Fischell Festival guest Bartley Griffith (professor of surgery; chief, division of cardiac surgery; director, heart and lung transplantation, University of Maryland Medical Center).
Last year, Intelligent Packaging Systems, a startup created by Kofinas and one of his advisees, Fischell Fellow Dan Janiak (Ph.D. '09), took first place in its division. ViruSense, a startup created by Kofinas and another of his advisees, graduate student Angela Fu, was a finalist.
"Our research is very applied," says Kofinas. "Most things we do in my lab are targeted toward a product or a device. The Business Plan Competition, and particularly the coaching and support [provided] by MTECH and Venture Accelerator, is vital to transforming such research to market products. [My students'] participation in the Business Plan Competition has allowed them to pursue careers that are not typical for them. For example, Dan Janiak, the winner of last year's competition, is now an associate at a venture capital firm."
The $75K Business Plan Competition, held annually by MTECH, promotes the commercialization of innovative ideas and University-created technologies by offering faculty, students, and alumni prizes for the best new venture plans. The competition emphasizes learning by offering one-to-one coaching for finalists, as well as the experience of presenting ideas to an experienced panel of judges. Companies active in the Competition have generated millions in revenues, grants and awards.
Another BioE team, Callinix, based out of the research group of Professor and Chair William Bentley, also made the finals this year.
For More Information:
Read the MTECH press release to learn more about the competition, the judges and prizes, and all of the winning teams »
Visit the $75K Business Plan Competition web site »
Visit Professor Kofinas' homepage »
Published May 12, 2009