Jewell Joins BioE Faculty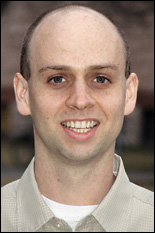 The A. James Clark School of Engineering and the Fischell Department of Bioengineering (BioE) are pleased to welcome their newest faculty member, Assistant Professor Christopher M. Jewell.
Jewell, who received his Ph.D. in chemical and biological engineering from the University of Wisconsin–Madison in 2008, says his decision as an undergraduate to earn degrees in both chemical engineering and molecular biology set the stage for a career exploring the interface of biology and engineering.
"The common theme of all my research has really revolved around using biomaterials and nanotechnology to improve the delivery of drugs and vaccines," he says. Jewell specializes in "immunomodulation," a new field of study that explores directing the body's immune system response to target a specific disease. Understanding how and why biomaterials interact with different types of immune cells could lead to new, biomaterial-based treatments for autoimmune disorders such as type I diabetes, multiple sclerosis, and rheumatoid arthritis.
"We really don't have a fundamental understanding of how polymers or other biomaterials influence or direct immune response, despite [their] widespread use as vaccine and drug carriers," Jewell explains. Being able to control or correct adverse immune responses is a life-changing capability…there's enormous potential for making an impact."
His efforts have been recognized by USA Today, which profiled him in its "New Face of Engineering" feature during National Engineers Week in 2012, and by the Controlled Release Society, which honored him with a T. Nagai Postdoctoral Achievement Award in 2011. He is the co-author of several patents that describe gene therapy and drug delivery technologies.
Jewell says he's "thrilled" to be joining the Fischell Department of Bioengineering, the Clark School, and the University of Maryland. "My research is very interdisciplinary, so I needed an institution with great collaborative opportunities and genuine interest in [hosting] translational research," he says. "In [BioE], I saw a lot of energy, excellent students, and an opportunity to join a new department with an exciting and aggressive trajectory. The close proximity to federal funding and research agencies really added to the appeal."
A native of western Maryland, he adds that his decision to come to College Park has also been something of a homecoming. This fall, he will be co-teaching a biofluids course, and plans to develop an advanced course focusing on the role of biomaterials in vaccine design and immunotherapy.
Prior to joining the University of Maryland, Jewell was a postdoctoral research fellow in the Departments of Materials Science and Biological Engineering at the Massachusetts Institute of Technology. He has also served as a healthcare practice analyst at the Boston Consulting Group, where he advised pharmaceutical and biotechnology clients on research and development strategies. As an undergraduate, he completed several industrial internships at Merck and Akzo Nobel. Outside of the lab, he has been a mentor in the University of Wisconsin's Adult Role Models in Science (ARMS) program, in which he developed and taught science curricula in the Madison public elementary school system. He also enjoys backpacking, canoeing, running, barbequing, and traveling. He recently returned from a tour of Asia with his wife and fellow Clark School faculty member Amy Karlsson.
Professor Jewell is currently seeking outstanding scientists interested in applying engineering principles and biomaterials to challenges facing immunology and medicine. Graduate students, postdoctoral researchers, and undergraduate students interested in joining his research group are encouraged contact him at (301) 405-9628 or cmjewell@umd.edu.
For More Information: Visit Professor Jewell's web page »
Published August 13, 2012