Jewell Lab Takes on Alex's Lemonade Stand Million Mile Challenge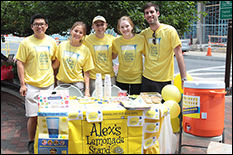 Every year, an estimated 263,000 new cases of cancer affect children under the age of 20 worldwide. Recognizing this, members of Fischell Department of Bioengineering (BIOE) Assistant Professor Christopher Jewell's Immune Engineering Lab are working to develop new nanotechnologies to help stop pediatric cancers – like those for which Alex's Lemonade Stand Foundation works to fight.
It's a cause for which Jewell Lab researchers are passionate – so much so that they joined forces with BIOE staff, faculty, and students this past September to pound the pavement to further their impact.
In 2004, a form of cancer known as neuroblastoma claimed the life of Alexandra (Alex) Scott, a little girl who garnered national attention for using her lemonade stand to raise money for cancer research. In 2014, Alex's Lemonade Stand Foundation – the organization established in her memory – awarded the Jewell lab a three-year, $375,000 research grant to support the pre-clinical development of a cancer vaccine technology that could give children like Alex a better chance to live long and happy lives.
Each September, ALSF hosts Alex's Million Mile – a month-long effort through which more than 15,000 people collectively run, walk, or bike one million miles while raising funds to support childhood cancer research in observance of Childhood Cancer Awareness Month. This year, the Jewell Lab united 12 members of the BIOE community in support of the initiative under the team name, "Engineers for Alex!" The group raised nearly $5,000 in donations and logged just under 1,000 total miles on foot.
"This is not only a chance to give back, but also to build awareness in the community for our future engineers and scientists to think about how they can work together," Jewell said. "Getting more people from all areas of science and engineering to work together as a team is important for creating real strides in the fight against pediatric cancer. Opportunities like these – and our lemonade stand, which we host in the summer – also inspire members of my lab as they meet some of the kids and families who are faced everyday with these awful diseases."
Jewell and his researchers have had a long track record of working toward advancing the fight against cancer and other diseases both in and outside the lab. In addition to volunteering for the Alex's Lemonade Stand Foundation by hosting ALSF lemonade stands and participating in initiatives like Alex's Million Miles, the Jewell lab also maintains a year-round partnership with Wheaton High School to advance bioengineering education opportunities for teenagers.
In 2013, Jewell and his researchers worked with Wheaton High School to launch the Program to Enhance Participation in Research (PEPR), through which BIOE students serve as mentors to high school students as they take on the challenge of conducting in-depth research on bioengineering topics of their choosing.
"The reason I started this program, along with great collaborators at Wheaton High School, is because it is really important to provide new kinds of exposure for students to get involved with science, engineering and mathematics," Jewell said. "In the beginning of the academic year, we pair up all the students in the Bioscience Magnet Program at Wheaton with a mentor from the Clark School of Engineering – a graduate student or a postdoctoral researcher. Throughout the year, PEPR students work with a topic that interests them. They cover such a huge range of topics – and that's one of the really fun things we have seen in doing this program."
In addition to working with a BIOE mentor, each of the PEPR students has the opportunity to take part in more than 10 workshops throughout the year covering areas such as how to present different topics and how to analyze data.
"PEPR students are learning skills that are going to be important no matter what they might pursue as they move on," Jewell said.
Learn more about the Jewell Lab's latest research, philanthropic efforts, and STEM outreach initiatives online.
Published November 1, 2016