Kofinas Keystone Team Wins Spring 2010 Hovercraft Competition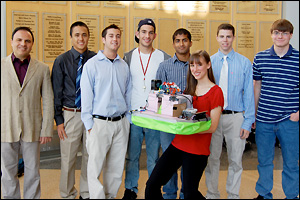 A team of students advised by Fischell Department of Bioengineering and Keystone Professor Peter Kofinas won the Spring 2010 ENES 100: Introduction to Engineering Design autonomous hovercraft competition. Team Legend received a prize of $400 and will be recognized at next year's Clark School Honors and Awards Ceremony. Their hovercraft was the first to complete this particular course without faults during an official timed and scored trial at the finals.
ENES 100 and the hovercraft competition are part of the Clark School's Keystone program, which is dedicated to excellence in the teaching of fundamental engineering courses. The program serves as a national model for increasing engineering student retention and graduation rates.
Each semester, teams of freshmen engineering students from all majors design and build hovercraft equipped with fans, a steering system, an on-board computer, and sensors. The vehicles, which average about three feet in length, are not remote controlled—they must guide themselves through a course while accomplishing tasks along the way. Each team tries to program its hovercraft to complete the course within a specified amount of time without bumping into its walls.
"For the past three semesters, including this one, we have had a very challenging product specification which requires the hovercraft to locate and depress a switch, navigate under a gate, and then complete a four turn track," says Keystone Instructor Kevin Calabro. "Other teams have completed the entire course without any faults, but not in timed trials. Small changes in battery charge, rotation, and friction can yield very different performances for these craft each time they run."
"ENES 100 has really been a great opportunity for us as a predominantly freshman team because we learned the process of developing a product early in our engineering education," says Emily Dumm on behalf of Team Legend. "There were times when we didn't know what to do next or if the hovercraft would work out at all, but as a team, we took the process one step at a time and solved each problem as it came up. It was very exciting to see all of our hard work pay off with our win at the competition. This experience has been really fun for all of us and I think we've all gained a lot from it, from teamwork experience to a taste of engineering success."
"Hard work pays off!" says Kofinas. "Team Legend was in the ENES 100 assembly room every single Friday, and also spent most of the weekend before the final competition in the Kim Building lobby working on their hovercraft."
Team Legend member Thom Lashier agrees. "Winning the competition was an astounding feat because it represented months of strenuous work and extra hours in the lab trying to get Ms. Magoo [the hovercraft] to work perfectly."
"The best part about all this," teammate Keegan Brenneman adds, "is that nobody can take away from us that we were the first team to ever run this course successfully at the finals."
Learn More and Watch Video from the Competition:
Read more about the Keystone Program and hovercraft competition in the current issue of the Clark School's E@M magazine »
Reporter Holly Morris broadcast live from the hovercraft event as part of Washington, D.C.'s Fox5 Morning News' coverage:
Published May 17, 2010