"Nebuchadnezzar" Takes Autonomous Hovercraft Honors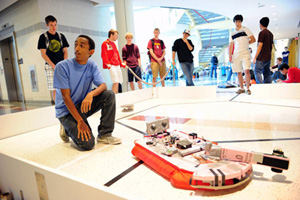 In what is now a semester-end tradition, teams of freshmen in ENES100, "Introduction to Engineering Design," filled the Kim Engineering Building rotunda with the noisy whirr of flying autonomous hovercraft—punctuated by groans of failure and cheers of success.
Teams with mysterious names such as "Nebuchadnezzar," "Plan C," and "The Man Cave" launched their colorful, hand-built vehicles, each floating on a cushion of air, to find their way around, and out of, a walled track. This semester, the hovercrafts also had to locate, retrieve, and transport a randomly located payload mounted on a pedestal. The "leader board" indicated which vehicles retrieved and transported their payloads, and total run time.
The competition is sponsored by the Keystone Program, which selects and supports the great teachers who present the course, develops the hands-on, team-centered project, and delivers a unifying experience all Clark School students share. During the competition, faculty members, undergraduate teaching fellows, staff members, interested students, and the occasional parent come to watch and give advice. The competition is also streamed live throughout the day on the Keystone Program's website.
Out of 33 teams spanning seven sections, 21 teams qualified to compete. Each qualifier was permitted three official timed trials. The results of these trials were:
- Five reached the payload pedestal but could not retrieve the payload (level 1);
- Nine successfully retrieved the payload (level 2); and
- No teams successfully completed the course (level 3), but two teams completed the course in unofficial practice trials.
The top three finishers were: 1) Team Nebuchadnezzar (section 0101); 2) Team Elephants (section 0101); and 3) Team Carbon (section 0102).
The Most Innovative Hovercraft Design award was given to Team C.R.A.F.T. (section 0501) and The Craftsmanship Award was given to Team Plan C (section 0601).
According to Kevin Calabro, Keystone Program instructor and ENES100 course coordinator, faculty members were impressed by the students' response to the payload challenge, "tackling a mission that none of us knew very much about at the start of this year. Unlike many prior semesters, [they] were each faced with a very new design challenge that required novel sensor choices, actuator types and arrangements, and control schemes."
Hands-on projects interest and motivate students to study engineering and the other STEM (science, technology, engineering and mathematics) disciplines. Through this class, students learn interpersonal skills, problem-solving strategies, confidence and other qualities that will help them throughout the rest of their time as students and as practicing engineers. Many students consider this course to be one of their best educational experiences at the Clark School.
Published May 17, 2012