Kofinas on Food Safety at USDA Meeeting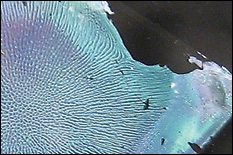 Professor Peter Kofinas was recently invited to present his work on the use of pathogen-detecting food packaging at a meeting of the USDA Interagency Working Group on Nanotechnology. Attendees represented personnel responsible for food safety regulations and policies from a variety of USDA offices, including the Agricultural Research Service, the Economic Research Service, and the Food Safety and Inspection Office.
Kofinas' talk, titled "Nanostructured Colorimetric Coating for Food Pathogen Detection," introduced the nanostructured polymer coatings being developed in his Functional Macromolecular Laboratory that change color upon the detection of foodborne bacteria such as E. Coli, Salmonella, or Listeria. The coatings could be incorporated into existing food packaging and would allow consumers, producers and investigators to quickly determine whether perishable food is safe. Kofinas highlighted the role of nanotechnology in the creation of the packaging, the potential impact the product has on agricultural systems, and its possible benefits to the USDA's efforts to keep our food supply healthy.
The intelligent packaging has previously received attention on a segment of PBS' Nightly Business Report and took first place in the Faculty and Graduate Student Division of the Maryland Technology Enterprise Institute's 2008 $50K Business Plan Competition.
Related Stories
Kofinas, Janiak Take 1st Place in Business Plan Competition »
Kofinas, Payne Interviewed for PBS' Nightly Business Report »
Nightly Business Report Segment Now Online »
Published September 22, 2008