Liu Wins Whitaker Study Abroad Scholarship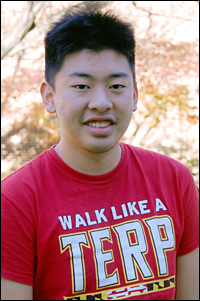 Fischell Department of Bioengineering (BioE) junior Winston Liu will study bioengineering at the Universidad Carlos III de Madrid (UC3M), thanks to a scholarship awarded by the Whitaker International Undergraduate Program and the Institute of International Education (IIE). Liu, who is scheduled to go abroad for the Spring 2014 semester, is the first University of Maryland student to receive one of the Whitaker Institute's international scholarships.
The Whitaker International Undergraduate Scholarship Program was established to increase the number of bioengineering and biomedical engineering students who study abroad. The program provides participants up to $7500 for a semester or up to $10,000 for an academic year to enroll in biomedical engineering courses, complete an internship, or conduct research.
Liu, who studied Spanish from third grade until recently, has always wanted to study abroad in a Spanish-speaking country. UC3M is particularly tailored to his interests.
"One of the things that was really exciting to me about Carlos III was that they had core focuses on bioimaging and bioinstrumentation, and bioimaging is something that I'm very interested in," he says, adding that he'd like to pursue a career in either that field or in bioinformatics. "This is definitely something I look forward to."
At UC3M, Liu will be a full-time bioengineering student, taking courses on fluids, biomaterials, and imaging.
He may also search for research opportunities to complement his already impressive experience: He currently conducts research at the National Institutes of Health, using bioimaging to quantify and measure spinal cords; and, as a member of the Clark School's Gemstone program, he is part of a team trying to solve the mystery of why small- and largemouth bass in the Chesapeake Bay are developing both male and female sexual organs. He also participates in the Quest program, which focuses on business, innovation and systems management.
Outside of the lab and the classroom, Liu is a member of the University of Maryland club swim team, an executive board member of the student chapter of the Biomedical Engineering Society, a Maryland Images campus tour guide, and a mentor in the university's America Reads*America Counts program, which helps children Prince George's County public schools succeed in reading and math.
Bioengineering undergraduates have many options for study abroad, especially at universities like UC3M that have biomedical engineering programs. For more information, please contact Ramsey Jabaji, Office of International & Leadership Programs, at rjabaji@umd.edu, or visit the office's web site at www.ilp.umd.edu
Published November 20, 2013