Mechanical Engineering Clinches 2015 Alumni Cup Title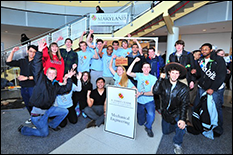 The anticipation and rivalry surrounding the 2015 Clark School Alumni Cup culminated in a win for the Department of Mechanical Engineering on Friday afternoon as students, faculty, staff, and alumni gathered to support their teams in the Kim Engineering Building Rotunda.
The Department of Electrical and Computer Engineering team captured 2nd place, while the Department of Civil and Environmental Engineering team took 3rd.
The Alumni Cup is an annual engineering design competition that was started in 2012 by the Engineering Alumni Network, formerly known as the University of Maryland Alumni Association's Engineering Chapter. The event takes place each year during National Engineers Week, which raises awareness and support for the roles engineers play in creating, designing, and building the world around us.
A week before the competition, the eight teams of student from each of the engineering disciplines began designing and building machines that could move a lightbulb at least two feet, insert it into a socket, and keep the bulb lit for 10 consecutive seconds. Each team had to use only materials purchased with a small stipend. On the day of the event, they demonstrated the effectiveness of their creations, which were judged by members of the Clark School administration and the Alumni Association.
This year's win by the mechanical engineering team breaks the two-year winning streak of the Department of Civil and Environmental Engineering. The Department of Mechanical Engineering will have its name inscribed on the Alumni Cup trophy, which will be on display in the west lobby of Glenn L. Martin Hall.
The members of the winning team include:
Patrick Healey – team lead
Jack Chen
Joshua Lafond
Caroline McCue
Marc Paras
Ori Perl
Nathan Roe
Nathan Young
The Engineering Alumni Network would like to thank:

Event Co-chairs
Erin Strittmatter, BS '13, CE
Alex Paraloglou, BS '14, BioE
Judges
Dr. Darryll J. Pines, Dean
Mr. Tim Dominick
Mr. David Erickson BS '98, EE
Ms. Vandy Gyandhar BS '94 CE
Mr. Mark Hopkins BS '92 FPE
Mr. Ed Packard BS '86 ME
Ms. Liz Tuthill BS '12 CE
Mr. Scott Zailer BS '01 Smith
Volunteers
Tom Chung BS '98 ME
Liz Goldwasser BS '03 ME
Hilary Grebe BS '13 ChE
SuYong Hwang
Khari Parker BS '04 EE
Kevin Schoonover BS '06 AE
Ralph Wheeler BS '79 CE
Russ Werneth BS '64 ME
The Engineering Alumni Network is grateful for the support of its 2015 Alumni Cup sponsors:

Principal Sponsors
ATK
Thomas Noyes
UMD Engineering Alumni Network
Lead Sponsors
Team Sponsors
Bala Balachandran
Mark Reese
Charles Schwartz
Norman Wereley
The Clark School Department of Mechanical Engineering
The Clark School Department of Materials Science and Engineering
Associate Sponsors
Anonymous
Anonymous
Anonymous
Anonymous
Anonymous
Anonymous
Anonymous
Anonymous
Chris Dulnig
Ken and Joan Isman
David Lovell
Laura Petrillo-Groh
Kevin Schoonover
Whitman, Requardt & Associates LLP
View photos from the 2015 Alumni Cup.
Published March 2, 2015