QUEST Competes in ecomagination Challenge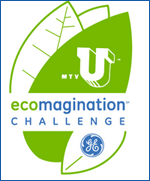 The
Quality Enhancement Systems and Teams (QUEST) Program
, a joint initiative between the Clark School and the Robert H. Smith School of Business, has fielded a team in the top 10 of this year's mtvU GE ecomagination Challenge.
The competition, sponsored by GE and mtvU, MTV's 24-hour college network, drew more than 100 submissions from student groups across the country for proposals addressing everything from energy conservation to urban runoff and waste production to wildlife preservation.
Clark School students are encouraged to vote online for the university's entry into the contest—a next-generation solar-powered trash and recycling compactor for receptacles across campus.
UM's team is competing against others from Connecticut College, MIT, Northeastern University, the University of Massachusetts, the University of Michigan, the University of Southern California, the University of Wisconsin (Stout) and Vanderbilt University.
More details about the competition are available online.
Published January 18, 2007