Recent Bioengineering Graduate Awarded National Mitchell Scholarship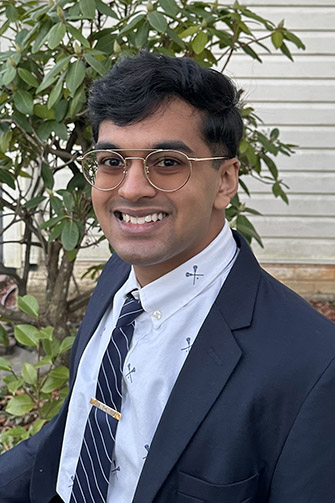 A 2022 University of Maryland graduate who devoted much of his undergraduate career to research in cardiovascular aging, public service, and leadership, was one of 12 individuals named to the George J. Mitchell Scholars Class of 2024 earlier this month.
Reisterstown, Md. native and Fischell Department of Bioengineering (BIOE) alum Neelesh "Neel" Mupparapu, along with his fellow Mitchell Scholarship winners, was awarded a year of graduate study in Ireland. Mupparapu will pursue a master's degree in public health at University College Cork (UCC). An aspiring physician-scientist, Mupparapu plans to later attend medical school with a wider goal of addressing transnational global health challenges, particularly health inequity and disparities.
Mupparapu is the fourth Mitchell Scholar from UMD since the program's founding in 1999 and the first Mitchell Scholar from the A. James Clark School of Engineering. The Mitchell Scholar program was created by the U.S.-Ireland Alliance and named in honor of former U.S. Sen. George J. Mitchell's contributions to the Northern Ireland peace process. The program has become one of the country's most competitive and prestigious postgraduate awards.
"I am thrilled and honored for the opportunity to gain a deeper understanding of Irish cultures as well as the differences between western European health care systems and those of India and the United States," Mupparapu said, noting that he wants to work towards ensuring that medical resources and research reach those who need it most. "Through personal experiences and my bioengineering coursework, I noticed that policies and systemic barriers often prevent universal access to care. I think my time at UCC will also allow me to see how the sociopolitical climate and the consequences of Brexit impact public health. For bioengineers and medical doctors alike, it is critical to understand how the underlying cultural, social, and economic contexts shape public health issues. In this way, the Mitchell Scholarship opportunity will further provide me with a new and invaluable perspective that will forever shape my life moving forward."
"This prestigious scholarship is a testament to Neel's incredible academic achievements, leadership, and service to others," said Clark School dean Samuel Graham, Jr. "Health care is shaped by so many factors beyond the techniques and technologies used at the point of care. Public health awareness, socioeconomic barriers, policy, and cultural influences all come into play and must be understood to deliver effective health care in any society. Even at an early stage of his career, Neel has demonstrated how important it is for engineers to work alongside scientists, public health experts, clinicians, and the community to address these factors. I look forward to following his successes at University College Cork and beyond."
A Banneker/Key Scholarship recipient and volunteer with the Johns Hopkins Senior Citizen Department and the Esperanza Clinical Center, Mupparapu spent much of his undergraduate studies investigating the molecular mechanisms of cardiovascular aging. His primary focus centered on Hutchinson-Gilford progeria syndrome (progeria), a rare, childhood genetic condition that essentially takes on the characteristics of premature aging. Children with progeria typically die of heart disease before the age of 15. Researchers like Mupparapu feel that advanced understanding of progeria could also lead to new insights into the contributing factors for cardiovascular disease in otherwise healthy adults.
Mupparapu attributes his passion for human health to numerous teachers, researchers, and family members he considers to be "part of the village that helped [him] become the person he is today." He thinks fondly of his early science education with the Academy of Health Professionals Magnet Program at Eastern Technical High School in Baltimore County, where teachers Patrick McConnell, Amy Magladry, and Ty Whittaker helped fuel his love for science. At UMD, Mupparapu studied at the nexus of bioengineering and cell biology, working in Department of Cell Biology & Molecular Genetics associate professor Kan Cao's lab while drawing research inspiration from courses taught by BIOE professor Alisa Clyne and BIOE associate professor Kimberly Stroka.
"I know I can speak for the entire Fischell Department of Bioengineering when I say that we are tremendously proud of Neel for his extraordinary achievements," said Fischell Family Distinguished Professor and BIOE chair John P. Fisher. "His tireless dedication to addressing gaps in human health care – as well as his compassion and empathy for others – is heartening for all of us working in this field. Having served as a vice president of our Biomedical Engineering Society chapter, as an Eagle Scout, and in many other leadership positions, Neel has demonstrated how much of his success is driven by his goal to help others. I look forward to celebrating his many achievements to come."
Mupparapu said he is grateful for the support and encouragement he received from UMD faculty and staff throughout the rigorous application and interview process, including from Department of History professor and chair of UMD's UK/Ireland fellowships committee Richard Bell, National Scholarships Office director Francis DuVinage, and Reed-Yorke Health Professions Advising Office director Wendy Loughlin. Mupparapu was also inspired by support from Fisher as well as Department of Electrical and Computer Engineering professor Patrick O'Shea. Fisher and O'Shea each have both family and collaborative roots in Ireland, and O'Shea previously served as UCC president from 2017-2020 before returning to UMD.
"I first learned of the Mitchell Scholarship because I stopped by the National Scholarships Office, and Dr. Bell sat down with me to walk me through all the available opportunities for me," Mupparapu said. "As I dug deeper into the Mitchell Scholarship application process, Drs. DuVinage and Bell organized mock interviews and provided caring guidance. I could not have received this without their support, and I would encourage anyone interested in such opportunities to meet with them."
In the news: The Class of 2024 Mitchell Scholars was featured in Forbes.
Published November 29, 2022