Stroka Awarded BWF Career Award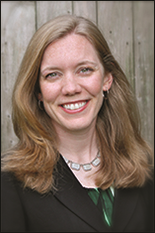 Newly appointed Fischell Department of Bioengineering Assistant Professor Kimberly Stroka (Ph.D., '11) was recently selected as one of 12 recipients of the Burroughs Wellcome Career Award at the Scientific Interface.
Intended to foster the early career development of researchers who have transitioned or are transitioning from undergraduate and/or graduate work in the physical/mathematical/computational sciences or engineering into postdoctoral work in the biological sciences and a career in academic research, the BWF Career Award provides $500,000 over five years to bridge advanced postdoctoral training and the first three years of faculty service.
Stroka was chosen for the award based on her proposal on engineering blood-brain barrier mechanobiology in the context of tumor cell metastasis.
Cell migration is a critical process for diverse (patho)physiological phenomena, and cell migration through physically confined spaces can persist even when typical hallmarks of 2D planar migration are inhibited.
Recognizing this, Stroka and six fellow researchers developed an integrated experimental and theoretical approach—known as the Osmotic Engine Model—demonstrating that directed water permeation is a major mechanism of cell migration in confined microenvironments.
Stroka, an alumna of the Fischell Department of Bioengineering, will officially begin her appointment as assistant professor at the University of Maryland in January 2015.
Published May 20, 2014