UMD, Lockheed Martin Sign Master Research Agreement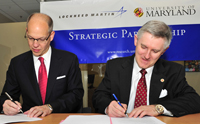 The University of Maryland (UMD) and Lockheed Martin Corporation reached a major new milestone in their Strategic Partnership on November 2, when UMD Vice President and Chief Research Officer Dr. Patrick O'Shea and Lockheed Martin Senior Vice President and Chief Technology Officer Dr. Ray O. Johnson signed a unique Master Research Agreement. The new agreement provides agreed master terms and conditions that will govern individual research and development activities and enable a streamlined process for initiating collaborative projects.
The Master Research Agreement supports an agenda of broader and closer research partnerships between the two institutions, fostered by the 2010 Strategic Relationship Memo of Understanding (MOU). The MOU provides a framework for current and future cooperation that leverages the resources, talent and ideas of both institutions to produce innovative solutions for global and national security challenges. The framework includes work in three key areas: Centers of Collaboration, Joint Pursuit of Business Opportunities, and Enhanced Research and Development.
The Strategic Partnership builds on more than 60 years of close collaboration between UMD and Lockheed Martin. Aviation pioneer Glenn L. Martin, founder of the Martin Aircraft Company, was pivotal in development of the the university's aerospace engineering program, which consistently ranks in the top 10 in the nation. The Martin name is associated with a number of UMD buildings, awards, scholarships and faculty positions.
Lockheed Martin continues to support cutting-edge research at the university in a number of areas, including energy storage, cultural modeling, computer vision, advanced materials and sensors, bioinformatics, healthcare, supply chain management and logistics. Lockheed Martin also supports student programs, university events and competitions, student facilities, classrooms and laboratories. Many Lockheed Martin senior executives have contributed to the vision for and prestige of the university by serving as members on university boards.
Published November 7, 2012