Watch: BioE Freshman Stars in Integrated Life Sciences Video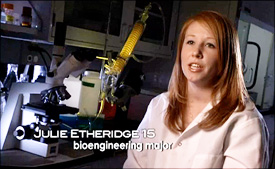 Fischell Department of Bioengineering freshman Julie Etheridge stars in
a new video
produced by the University of Maryland's
Integrated Life Sciences Program
(ILS). The four-year living-learning program, administered by the university's Honors College, "seeks to engage and inspire honors students interested in all aspects of biological research and biomedicine."
ILS students—who are drawn from majors including biological sciences, bioengineering, and biochemistry—take four integrated, accelerated life sciences courses, including a capstone focusing on scholarship-in-practice; engage in research on or off campus; live together in LaPlata Hall; and participate in service activities.
In the video, Etheridge, who is interested in both bioengineering and pre-medicine studies, particularly tissue engineering, is shown working in BioE associate professor John Fisher's Tissue Engineering & Biomaterials Laboratory.
To learn more about the program and how to apply, visit www.ils.umd.edu.
Published April 6, 2012