Watson and Stuart Awarded Seymour & Faye Wolf Endowed Scholarship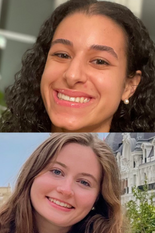 Fischell Department of Bioengineering seniors Kaitlyn Watson and Caroline Stuart are the most recent recipients of the Seymour and Faye Wolf Endowed Scholarship in Bioengineering.
The Seymour and Faye Wolf scholarship was established in 2002 to provide funds for outstanding undergraduates studying bioengineering.
"I was genuinely overjoyed and felt honored to be supported this way," Watson said. "I saw that my hard work paid off and felt encouraged to continue pursuing my goals.
Watson is interested in vaccine and drug delivery research. After graduation, she would like to work in biotechnology research and development either at a pharmaceutical company or a research organization. After gaining experience in the field, she plans to return to graduate school to pursue specialized work in bioengineering. Her primary goal in her career is to make a valuable contribution to the field and to have an impact on infectious disease research and drug/treatment affordability. Following these experiences, Watson plans to use the knowledge and skills she has gained to inspire and mentor the next generation of engineers as a professor.
Stuart feels beyond grateful to be awarded the Seymour and Faye Wolf Endowed Scholarship in Bioengineering. "I was always so fascinated and excited about bioengineering, and to be recognized for my academic achievements in the field that I have always marveled at is a great feeling," she said.
Stuart's research interests range from genetically engineering plants to increase and optimize lipid production for biofuels to neural engineering, where neural and electrical networks can be engineered to control artificial limbs in amputee patients. After graduation, Stuart plans to work in the pharmaceutical or medical technology industry to impact public health on a global level. She hopes to apply her bioengineering background to develop and innovate cutting-edge health care technologies to improve quality of life.
Published January 4, 2023