Weber, Stewart Named Fischell Fellows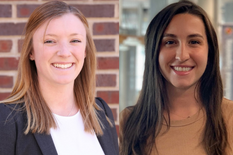 The Fischell Department of Bioengineering (BIOE) awarded the 2021-2022 Fischell Fellowship to graduate students Callie Weber and Samantha Stewart.

Fischell Fellow Callie Weber is a fourth-year Ph.D. student in BIOE Associate Professor Alisa Clyne's Vascular Kinetics Lab. Weber focuses her research on studying sex differences in brain microvascular endothelial cells, which line the blood vessels of the brain. These cells are implicated in the development of neurovascular diseases like Alzheimer's disease. Specifically, Weber is studying how stress hormone exposure, genetics, and exercise impact the function of these brain microvascular endothelial cells, and if there are identifiable differences across genders. Currently, Weber is in the process of publishing a paper on how angiotensin II, a stress hormone, impacts male and female endothelial cells differently.
Weber grew up in a relatively rural community with access to very few scientists and a limited understanding of what a career in STEM might entail. She learned about bioengineering from her biology teacher in her junior year of high school, and she loved the idea that bioengineering features aspects of nearly every engineering discipline.
Weber was inspired to attend the University of Maryland after meeting several BIOE faculty and graduate students at a biomedical engineering society conference during her junior year of college.
"All the faculty and students seemed to really enjoy the department and have a good work-life balance, which was really important to me," she said. When Weber visited the Fischell Department of Bioengineering, she immediately loved the facilities and noticed how welcoming both the students and faculty were.
Weber feels honored to be chosen as a Fischell Fellow: "It feels very validating to know there are people who believe in my research and think it is valuable knowledge that could help to improve human health," she said. "Having the Fischell Fellowship will allow me to continue researching important sex differences in the brain without worrying about splitting my time with other funded research projects in the lab."
Fischell Fellow Samantha Stewart is a fifth-year Ph.D. student and National Science Foundation Graduate Research Program Fellowship (NSF GRFP) recipient in BIOE Professor Xiaoming (Shawn) He's Multiscale Biomaterials Engineering (MBE) Laboratory. Stewart's research centers on investigating multiscale biomaterials for tissue engineering applications. She is focused on characterizing ovarian tissue material properties to better mimic them in culture for reproductive tissue engineering.
"I feel excited about this project, especially now in current times, as reproductive health and medicine and agency is super important, especially for people with ovaries right now," she said, noting that she is proud to be an NSF GRFP working in this area. "It feels encouraging to have been invested in as a young scientist and engineer, especially as a woman in STEM," she said.
Stewart has always had an interest in STEM — specifically in biology and math — so bioengineering seemed like a great way to meld her interests. In her undergraduate years, she found that her experiences in the lab drove her to dive into research and hone her expertise in a particular area.
Stewart is grateful to be a Fischell Fellow; she feels she has the tools and resources to help support the He Lab's research in order to translate their work to real-life applications. "I'm interested in really using my engineering background in the future to tackle problems in the medical field," she said. "I'm hoping this fellowship helps me [gain additional] perspective and can help me look past the bench and see how our research can be applied to solve problems."
In support of founder Dr. Fischell's vision for the future of bioengineering, the department's Fischell Fellowship in Biomedical Engineering is a unique opportunity for talented and innovative graduate students interested in applied research and product design in the biomedical industry. The department has named Fischell Fellows since 2003. Each fellow is granted a $2,000 award in addition to department support for their Graduate Research Assistantship.
Learn more about past Fischell Fellows' work in bioengineering.
Published October 17, 2022