UMD Bioengineering Advances in Rankings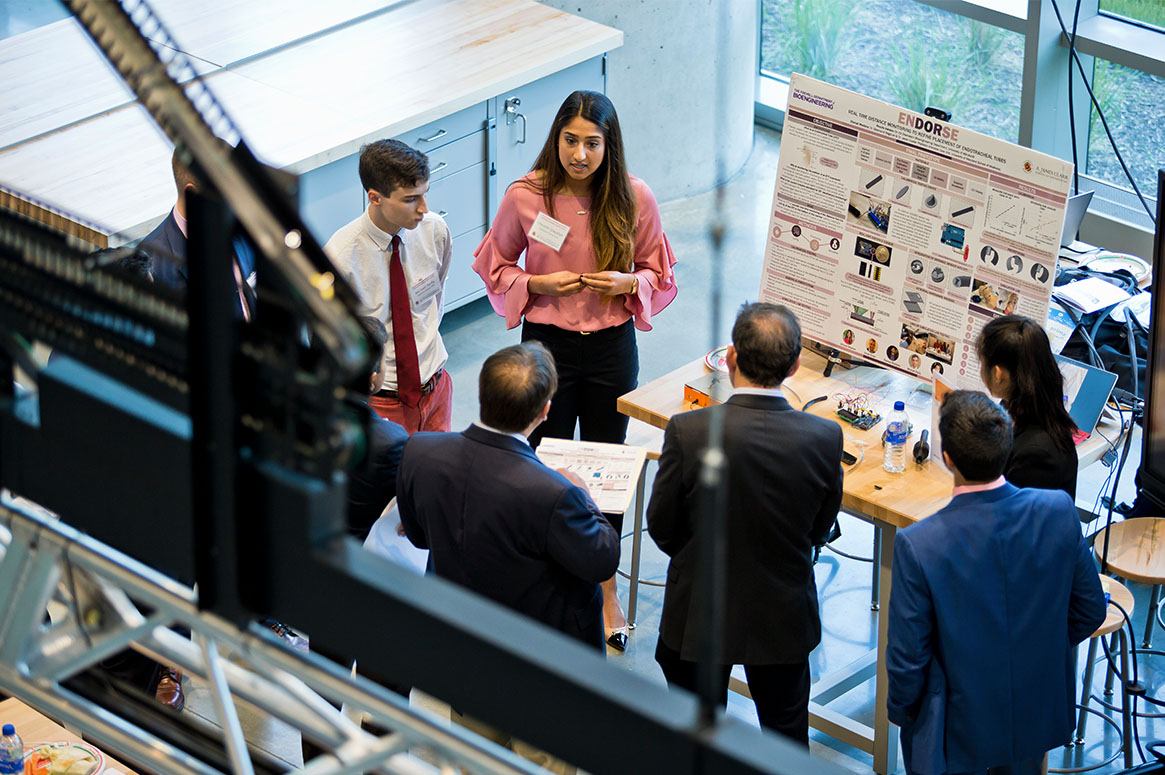 U.S. News & World Report announced on Sept. 12 that the Fischell Department of Bioengineering (BIOE) ranks 9th nationwide among public university bioengineering and biomedical engineering undergraduate programs, and 24th overall.
"Since the inception of the Fischell Department of Bioengineering in 2006, the faculty and staff have been dedicated to establishing an outstanding, rigorous, and supportive educational program for our undergraduates," said BIOE Fischell Family Distinguished Professor and Department Chair John P. Fisher. "We are particularly excited that our experiential learning environment has supported countless undergrads as they move into bioengineering careers. We are thrilled to be recognized nationally for our program, and look forward to its continued growth for many years to come."
Housed in the University of Maryland's A. James Clark School of Engineering, the BIOE undergraduate program is designed to empower bioengineers with the knowledge, skills, and resources needed to address the world's most pressing human health challenges.
Central to the undergraduate experience is an unparalleled, yearlong Senior Capstone class that matches small groups of students with both bioengineering as well as medical doctors and surgeons who serve as clinical mentors. These clinical mentors play a critical role in helping undergraduates navigate the lifecycle of a bioengineering innovation – from ideation to prototyping – before students earn their diploma. In this way, BIOE undergraduates learn how to collect and apply clinical insights and patient feedback toward tackling real-world problems.
In addition, the BIOE curriculum is structured to provide students with the tools they need to advance human health. BIOE students dive deep into exploring how disparities in public health access and care – as well as decades-long gaps in representation in bioengineering research – have contributed to preventable differences in disease and injury burdens in the U.S. and throughout the world.

CAREER READINESS
BIOE undergraduates complete a series of foundational courses before segueing into a specialized track of their choosing – Biotechnology and Therapeutics Engineering, Biomechanics & Biomaterials, Biomedical Instrumentation, or Pre-Health. In this way, the tracks enable students to shape their skill sets and knowledge base toward specific fields within bioengineering.
"The department created each specialized track to target key areas for career opportunities for students," said BIOE Associate Chair and Director of Undergraduate Studies Ian White. "In each track, students have the opportunity to enroll in electives that enable them to hone the skills most pertinent to their desired career pathway."
Among the most popular of these electives in recent years are the department's Python and CAD courses. These courses were designed in direct response to industry demand, White said, noting that the department offers each course three times a year, and yet the classes still fill up fast.
The department's focus on skills-based courses and career-centered learning opportunities is largely driven by direct feedback from BIOE graduates and employers, White said.
BIOE undergraduates are known for their drive; in fact, more than 90 percent of the spring 2022 graduating class noted they either secured a job or were pursuing a graduate degree as of their program exit survey before commencement. Building on this momentum, the department's most recent curriculum changes are designed such that graduates enter the workforce with a keen understanding of where and how they can best apply their interests and strengths.
"Our curriculum is designed such that students can enter the field of their choosing armed with in-demand skills and unique experiences," White said. "They stand out amongst others who might be competing for the same jobs."
To further support this effort, the department is working to make hands-on research experience more accessible for all undergraduates. Increasingly, biotechnology, biopharmaceutical, and medical device industries, in particular, seek prospective hires with prior lab experience. In addition to creating more "wet lab" opportunities through curriculum changes, the department – through the leadership of its Diversity, Equity, and Inclusion committee – launched an initiative to fund undergraduate research opportunities. The group's aim is to eliminate financial barriers to research in hopes that, one day, undergraduates with financial burdens would no longer have to choose between unpaid research experience and earning a paycheck.

CONNECTING WITH CLINICIANS
Many engineering undergraduate programs culminate in a senior capstone project, but there are none quite like the Fischell Department of Bioengineering senior class finale. Each year, BIOE students zero in on a human health challenge and work in tandem with bioengineering and clinical advisors to dream up solutions. But, it's not enough to put their ideas down on paper; instead, students conduct extensive research – including in-depth interviews and, often, weekly conversations with clinicians – to transform ideas into inventions that address the challenges before them.
The experience is eye-opening – not just for the bioengineering students themselves, but often, for their mentors and for those directly impacted by the challenge the students aim to address.
"Sometimes, I want to ask the clinical mentors why they serve as BIOE Senior Capstone advisors year after year," White said, adding that several University of Maryland, Baltimore and Children's National Hospital clinicians have mentored BIOE Capstone students for a decade or more. "What I've found is that clinicians really enjoy working with engineers. I think clinicians spend each and every day confronted with a lot of human health problems – problems that they wish they could solve and they know they just can't on their own. And so, they get excited about the opportunity to work with bioengineers who are determined to solve the problems they're encountering. What it comes down to is that there are a lot of human health challenges that can be solved – and bioengineers are uniquely positioned to bring those solutions to life."
Published September 12, 2022