Fatima (Tima) Jamal Mikdashi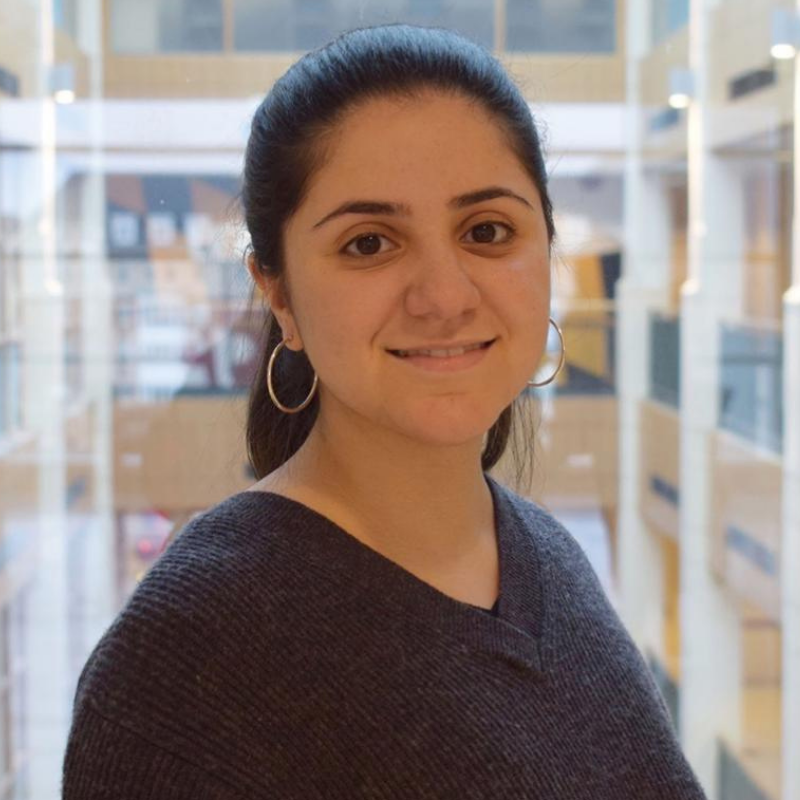 Overall, I'm really proud to have leveraged our local resources to create a global impact. We've developed a community of empowered global thinkers.
While attending the French International School in Bethesda, Maryland, Tima became an avid consumer of technology and global health news. "I grew fascinated by the application of innovative engineering principles to solve complex health challenges," she explains. "I realized that as an impact-driven problem solver, bioengineering was a great fit for me." 
Tima spent her first two years on campus as a member of the
Honors College Entrepreneurship and Innovation
(EIP) program, a joint program of the
Honors College
and
Maryland Technology Enterprise Institute
(M-tech). It provides freshman and sophomores with an interdisciplinary, living and learning education to build entrepreneurial mindsets and create innovative solutions to complex problems. EIP particularly helped Tima broaden her perspective on technology beyond the scope of the lab, and consider its potential on a global scale. For her, it was this experience that sparked her interest in Tech Entrepreneurship, which she later picked up as a minor. 
While the BIOE student found avenues to pursue many of her interests, she struggled to find an opportunity to combine her love for bioengineering and global health. After identifying the absence of a crossover between these two landscapes on campus, Tima decided to start an Engineering World Health UMD chapter, alongside her friend and now co-founder Salma Ghorab and with the help of faculty advisor, Dr. Angela Jones. The goal of Engineering World Health organization is to better equip hospitals and clinics in resource-poor communities of the developing world with medical devices.
Currently, the EWH team is tackling the issue of limited mobility of people with disabilities, with a focus on improving the experience of wheelchair users in developing countries.  This idea was born out of a partnership with bioengineering students at Makerere University in Uganda. A needs assessment  conducted by Makerere University students showed that there is a massive shortage of wheelchairs in Uganda. Furthermore, most of the wheelchairs that are available to Ugandan citizens in need are donated and unadapted to the area's terrain. 
To address this problem, the chapter has organized itself into two main branches with specific tasks in solving this issue. The innovation team are working on developing a low-cost wheelchair braking system that can easily be attached to any wheelchair model. "The top reported cause of injury is related to the braking system (or lack thereof) on wheelchairs, so we wanted to design a solution made of local resources that is affordable, sustainable and capable of being installed and fixed by the local community," Tima explains. "This project is a starting point in eliminating the barriers that hamper individuals with disabilities from participating in social activities and achieving financial independence." 
The repair team's efforts are focused on streamlining the process of collecting and repairing unwanted wheelchairs from local (to College Park) hospitals to be re-distributed to communities in need. Many large hospitals have rooms full of unwanted, outdated, or broken medical devices, including wheelchairs. Repair team members use their engineering skillset to functionalize these wheelchairs. 
UMD's Engineering World Health chapter engages community members beyond its two branches. The group has hosted guest speakers including the Robert E. Fischell Department of Bioengineering namesake Dr. Fischell, and Dr. Glowinski from the National Institutes of Health (NIH). The chapter additionally organizes training sessions for its members, including basic CAD (computer-aided design) training, machine training in the
Instructional Fabrication Lab
, and instructional kit training for ECG and optical heart rate monitor simulators. It also contributes to the broader College Park community by hosting STEM outreach events for elementary school students from Prince George's County in collaboration with the Adventures in Science program. 
"Overall, I'm really proud to have leveraged our local resources to create a global impact," Tima explains. "We've developed a community of empowered global thinkers who take the time to understand and critically think about a given problem. Through this community, we've created an outline to design creative and innovative solutions that address those real-world challenges."
The hard work of Engineering World Health's members led it to be recognized as the EWH Chapter of the Year in 2018. The group has also been awarded the Do Good Mini Grant three times to further expand its impact. 
"As a Lebanese-American daughter of immigrants, I carry with me a dedication to understanding global challenges and thinking critically about potential solutions," Tima explains. 
Tima is also a member of the
Women in Engineering
student advisory board, a bioengineering student representative at Open Houses and a member of the engineering honor society,
Tau Beta Pi
. She previously served as an editor for bioengineering undergraduate research journal
The Catalyst
and a journal club organizer for the bioengineering honors society,
Alpha Eta Mu Beta
. 
For those aspiring to make an impact as prospective BIOE students, Tima offers some advice: "Don't hesitate to pave your own path. If there is something that you're interested in but you can't seem to find opportunities that match that interest on campus, create the opportunity for yourself. The students, department, and university grow when you decide to pave a new path forward." 
Top