$1.7M Grant to Support UMCP, UMB Clinical and Translational Research Collaborations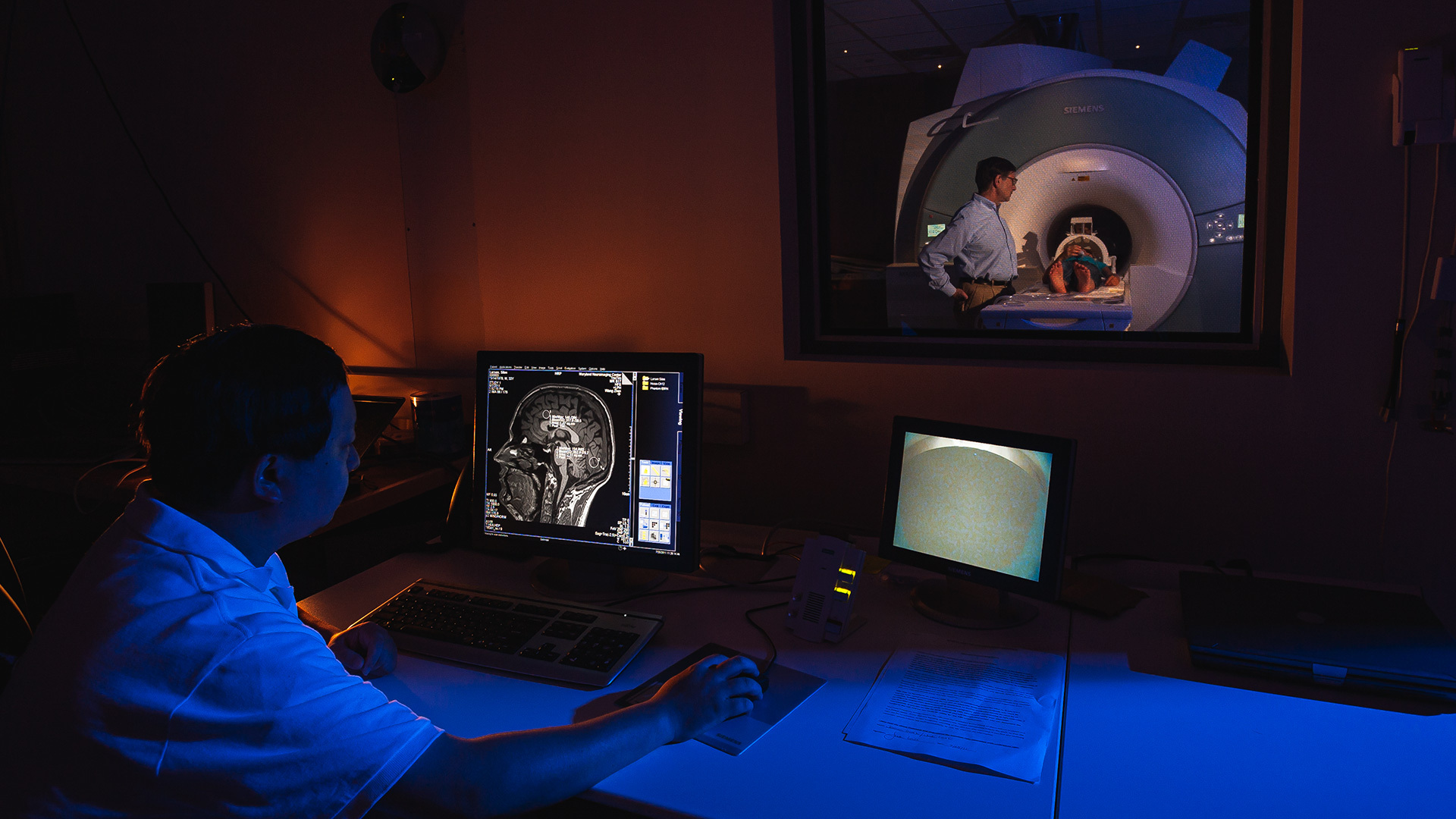 A new grant will provide $1.725 million over three years to support research collaborations between the University of Maryland, College Park (UMCP) and the University of Maryland, Baltimore (UMB) aiming to improve health care.
The grant from the University of Maryland Strategic Partnership, MPowering the State, and accompanying cooperative agreement will allow researchers across the College Park campus to partner with UMB's Institute for Clinical and Translational Research (ICTR). The institute focuses on putting health-related scientific findings to work, and offers expert patient- and community-centered services; biostatistical support for study design, implementation, and interpretation; and pre- and postdoctoral training awards.
The MPower award will help researchers access resources for clinical training, reduce barriers to patient recruitment and open new avenues for human-subject research at UMCP.
The effort is co-led by Dr. Stephen N. Davis, the Dr. Theodore E. Woodward Chair of the Department of Medicine at the University of Maryland School of Medicine and director of the ICTR in Baltimore, and Professor Elizabeth Quinlan, the Clark Leadership Chair in Neuroscience, Department of Biology, and director of the Brain and Behavior Institute at UMCP.
"Access to ICTR resources will enable the translation of high-impact research from the laboratory to the clinic," said Quinlan. "The MPower funding to establish this strategic partnership reflects the commitment to training and will accelerate new bi-campus collaborations."
The ICTR, supported by funding from the National Institutes of Health, was established at UMB in 2017 as a universitywide, interdisciplinary hub with a mission to turn basic research findings into novel technologies and practices with communitywide impact. Through the MPower funding, College Park faculty researchers in the life sciences, public health, neuroscience, bioengineering and other disciplines related to clinical and translational research are now eligible to submit proposals for services provided by the ICTR. In addition, College Park students, postdocs and faculty will be invited to compete for career development and mentoring funding. College Park faculty are also eligible to apply for the ICTR Accelerated Translational Incubator Pilot voucher program.
To further strengthen this partnership, MPower funds will continue to develop UMB's bioinformatic infrastructure, which applies computational analysis to biological and health information.
"These resources will scale up the ICTR's informatics capabilities and help generate compelling data that demonstrate the effective and seamless clinical research partnership of the two campuses," said Davis. "The MPower agreement will create a clinical research network across Maryland that benefits both the population of the state and faculty in Baltimore and College Park."
The MPower announcement follows the news earlier this year that the University of Maryland achieved its highest-ever ranking in the National Science Foundation's Higher Education Research and Development survey, as a result of Baltimore and College Park research enterprise being linked together for the first time.
"This will create exciting new opportunities for our researchers to collaborate and deepen the impact of our combined research productivity across our College Park and Baltimore campuses," said Interim Vice President for Research Amitabh Varshney. "For College Park researchers new to the ICTR, the program will provide a high-quality environment for clinical and translational research and will foster innovation in research methods and training."
###
Media Relations Contact: Nathaniel Underland, underlan@umd.edu
About the Brain and Behavior Institute: The mission of the BBI is to maximize existing strengths in neuroscience research, education and training at the University of Maryland and to elevate campus neuroscience through innovative, multidisciplinary approaches that expand our research portfolio, develop novel tools and approaches and advance the translation of basic science. A centralized community of neuroscientists, engineers, computer scientists, mathematicians, physical scientists, cognitive scientists and humanities scholars, the BBI looks to solve some of the most pressing problems related to nervous system function and disease.
Published November 3, 2021