Alumna Lu Jiang Receives Chinese Government Award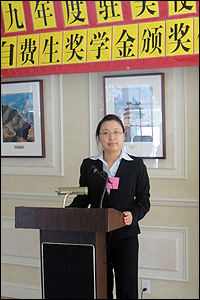 Alumna Dr. Lu Jiang (Ph.D. '09, biological resources engineering), formerly advised by Fischell Department of Bioengineering professor Yang Tao, has received a Chinese Government Award for Outstanding Self-Financed Ph.D. Students Abroad. The prestigious, highly selective award recognizes top international Chinese doctoral students in all areas of study. Jiang was one of 500 students selected from over 100,000 candidates in 29 countries. She received a $5000 cash prize and was recognized at a reception held at the Education Affairs Office of the Chinese Embassy in Washington, D.C. in May 2010.
"I feel very lucky that I [studied] at the University of Maryland," Jiang wrote in an e-mail to the department. "…winning this award would have not been possible without the excellent training I received from both [Tao's] Bio-Imaging Lab and our bioengineering department. I would like also give my thanks to Dr. Tao and all the [people] in our department who helped me in many ways during my Ph.D. study."
Jiang studied advanced imaging and data mining technologies for applications in food and medical safety in Tao's Bio-Imaging and Machine Vision Laboratory. During her years as a graduate student, she published over ten journal articles, a book chapter, and seven conference papers, and was also the recipient of a 2008 Ann G. Wylie Dissertation Fellowship. Her work about hyperspectral imaging in automated walnut sorting was reported by Vision System Design magazine, which serves the machine vision industry.
Jiang is currently a research fellow at the Johns Hopkins University Medical School, where she specializes in breast cancer imaging research.
To learn more about the Education Affairs office of the Chinese Embassy, including opportunities for Americans to teach and study in China, visit its web site at www.sino-education.org (Chinese) or www.sino-education.org/english/ (English).
Published June 9, 2010