America's Got Regulatory Science Talent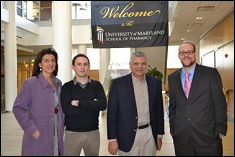 By: Steve Berberich
Tuesday, February 5, 2013

Curtis Gallagher, now a University of Maryland (UM) student, says he once needed nearly 20 minutes to figure out how to report a bad medication reaction to the Food and Drug Administration (FDA).
But, unlike other consumers who in 2010 reported about 427,000 adverse medication events, Gallagher will have a chance to tell a top FDA administrator about that frustrating experience and suggest a way to improve the agency's reporting system.
On Jan. 24, Gallagher, a PhD graduate student in molecular medicine in the UM School of Medicine, won the University's first America's Got Regulatory Science Talent student competition at the UM School of Pharmacy. He convinced the judges—two pharmacy faculty members and an FDA official—that his Interactive Medication Guides (IMGs) could improve the process of reporting an adverse medication event to the regulatory agency. His first place winnings are an iPod (the Apple Shuffle MP3 player) and a chance to meet Jesse Goodman, MD, MPH, chief scientist at the FDA.
The student competition was presented by the University's Center of Excellence in Regulatory Science and Innovation (M-CERSI), a collaboration with the University of Maryland, College Park. In late 2011, the FDA awarded $2 million to launch M-CERSI programs at the University of Maryland and Georgetown University. M-CERSI is intended to modernize the FDA's regulatory processes through a more robust science culture, according to Goodman, who is working closely with faculty at both the School of Pharmacy and College Park on the Center's initiatives.
For the talent competition, six teams of students signed up for the competition with recommendations from faculty members.
Gallagher says, "I had that [adverse reaction] experience, and I thought there must be a more efficient way to report side effects." His IMGs would streamline the online FDA reporting process from many steps to just two. "This FDA medication guidance will also increase the number of consumer reports," Gallagher says. "This is something we have to offer people on a silver platter." He points out that the 427,000 reports in 2010, the last complete data available, represents "a miniscule" 0.27percent of the 150 million Americans who take at least one prescription drug.
"I had that [adverse reaction] experience, and I thought there must be a more efficient way to report side effects."
James Polli, PhD, co-director of the M-CERSI, says the competition was "designed to promote student interest in regulatory science -- the science of developing new tools, standards, and approaches to assess the safety, efficacy, quality, and performance of FDA-regulated products."
The judges awarded second place in the competition to a team of five doctoral students in the School of Pharmacy's Department of Pharmaceutical Health Services Research for developing an electronic system to promote better medication safety and adherence by facilitating more collaboration between physicians and pharmacists. A patient's entire medication regimen would be shared. Team members were Mehmet Burcu, Sarah Dutcher, Xinyi Ng, Patience Moyo, and Dinci Pennap.
The third place team of Jane Kalinina and Neha Patel outlined how to add medication indications to pharmacy labels in order to increase patient compliance and better outcomes. Both students are earning simultaneous pharmacy and law degrees.
"Several graduate students and postdoctoral fellows already work on M-CERSI research projects with the FDA," says Polli, who is a professor and the Ralph F. Shangraw/Noxell Endowed Chair in Industrial Pharmacy and Pharmaceutics at the School of Pharmacy. "In addition, this competition allowed even more students from various degree programs and disciplines to be involved and learn about regulatory science. The quality of ideas and presentations was excellent. The student teams put a lot of effort into their proposed solutions. It was a lot of fun, and we'll do it again next year."
Other student teams suggested improving the safety of generic drugs through stricter FDA application processes, better regulatory standards for ensuring the safety of products from compounding pharmacies, and quality assurance for new generic drugs through more precise data to engineer the products.
Teammates Naim Haque and Mary Li say they didn't expect such an opportunity in their very first year of pharmacy school. "We studied the FDA website first, then we were very fortunate to be able to do this, and to meet an FDA regulator," says Haque. "It was very interesting to try to make the approval process more efficient."
Published February 6, 2013