Ayyub Wins Outstanding ASPIRE Student Research Award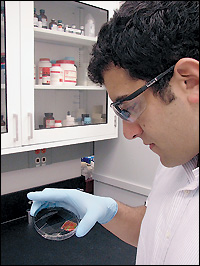 Fischell Department of Bioengineering senior Omar Ayyub, advised by Professor Peter Kofinas, is the recipient of the 2010 Outstanding ASPIRE Student Research Award for his work on polymer-based hydrogels that can selectively bind hemoglobin. ASPIRE, A Scholars Program for Industry-Oriented Research in Engineering, run by the A. James Clark School of Engineering, offers students the opportunity to move beyond the classroom by working with faculty or staff on real-world engineering projects.
Ayyub worked in collaboration with Kofinas and Fischell Fellow Dan Janiak (Ph.D. '09) on developing and improving polymers capable of recognizing and capturing specific peptides, proteins, and larger macromolecular structures such as viruses. Ayyub introduced positive and negative charges into the hydrogels in an effort to increase their selectivity and specificity. The work could lead to inexpensive alternatives for protein purification, especially in the production and purification of vaccines. Ayyub co-authored and published two papers about the results, including one in the high-impact journal Macromolecules.
The research conducted in Kofinas' Functional Macromolecular Laboratory appealed to Ayyub, and his decision to join the group shaped his Clark School experience. "Dr. Kofinas was my ENES 100 professor the second semester of my freshman year." he explains. "I decided to visit his web site and read about his research. I immediately spoke to him in hopes of becoming an undergraduate researcher in his lab. The experience convinced me to switch my major to bioengineering."
Working on the project has been rewarding for him. "My favorite experience would have to be the first time I saw positive results during an experiment, and knew that our theory had an effect in reality."
This is the second year in a row a student from Kofinas' lab has won the ASPIRE research award. In 2009, junior Adam Behrens (Department of Chemical and Biomolecular Engineering) won for his work on blood-coagulating hydrogels.
For More Information:
Read an introduction to this research:
Molecularly Imprinted Polymers for Viral Diagnostics »
See the team's articles on molecularly imprinted polymer hydrogels:
Effects of Charge Density on the Recognition Properties of Molecularly Imprinted Polyampholyte Hydrogels D.S. Janiak, O.B. Ayyub, and P. Kofinas. Polymer, 51, 665–670, 2010.
The Effects of Charge Density on the Recognition Properties of Molecularly Imprinted Polymeric Hydrogels D.S. Janiak, O.B. Ayyub, and P. Kofinas. Macromolecules, 42 (5), 1703–1709, 2009.
More News About This Research:
Company to Utilize Kofinas's, Janiak's MIPs Technology »
Clark School "Virus Sponge" Could Improve Flu Treatments, Diabetes Care, Vaccine Development »
Published April 30, 2010