Bulka Wins Outstanding ASPIRE Student Research Award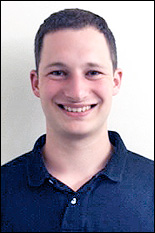 The degradation of cartilage and fibrocartilaginous tissues, which leads to disorders such as osteoarthritis and degenerative disc disease, leaves sufferers faced with years of pain, bone damage, decreased strength and mobility, or joint replacement surgery. Despite the many forms of treatment available, the exact causes are unknown, and there is no cure.
At the A. James Clark School of Engineering's Orthopaedic Mechanobiology Lab, directed by Fischell Department of Bioengineering (BioE) associate professor and associate chair Adam Hsieh, researchers are studying how the body's mechanical environment contributes to the health or degeneration of tissues and cells, particularly in the intervertebral discs of the spine. BioE senior Ben Bulka is part of that team, and his efforts toward understanding how stem cells might respond to mechanical stresses have earned him the 2013 Outstanding ASPIRE Student Research Award.
ASPIRE, A Scholars Program for Industry-Oriented Research in Engineering, run by the Clark School's Maryland Technology Enterprise Institute (Mtech), offers students the opportunity to move beyond the classroom by working with faculty or staff on real-world engineering projects.
Bulka, who has been mentored by Hsieh and BioE graduate student Julianne Twomey since January 2012, works on a project that examines the effect of mechanical loading on biologically engineered stem cells. Excessive mechanical loading, which is a risk factor for exacerbating disc degeneration, will affect how any cell-based therapy responds.
"I am excited about my project because it's a way for me to use engineering principles to improve human health," he says. "I chose to major in bioengineering because of the potential impact I could have on people's well-being, so to work on a project that could contribute to a cure for osteoarthritis, which afflicts millions of people, is really cool to me."
Twomey's research focuses on mechanotransduction—how cells convert external mechanical signals into biochemical ones—and how mechanical loading affects these signals' roles in directing the gene expression that prompts human mesenchymal stem cells to develop into chondrocytes (cartilage cells). Although the implantation of stem cells has been explored as a means of regenerating damaged cartilage and intervertebral discs, the results have so far been poor because the cells do not thrive. Understanding how the mechanical environment influences stem cells to, or discourages them from, differentiating into chondrocytes could make stem cell therapy a more viable option for treating degenerative conditions.
Bulka has contributed to Twomey's efforts by designing a bioreactor–an environment designed for cell growth–that applies compression to hydrogels laden with mesenchymal stem cells, simulating the stress they would experience in tissues such as intervertebral discs of the spine. After being removed from the bioreactor, various measures of cellular function can be measured. Changes in the expression of particular genes examined by Bulka and Twomey indicate how mechanical loading affects the development of mesenchymal cells into chondrocytes.
Bulka designed the bioreactor for efficiency and accuracy. "My bioreactor is novel because it has multiple wells, so cells can be loaded under up to four different sets of culture conditions," he explains. "It's also is small enough to fit in an incubator, so the cells can be loaded in a sterile environment at body temperature."
After developing an interest in a research-oriented career, Bulka became involved in undergraduate research as a way to find out whether his instincts were correct, and to gain experience that would appeal to both prospective graduate schools and employers. He sought a position in Hsieh's group after enjoying the professor's course in biomechanics. Ultimately, it was a wining combination. In Fall 2013, he will attend the University of Pennsylvania, where he plans to earn a Ph.D.
"Participating in undergraduate research has been a really valuable experience for me," he says. "It confirmed that I do want a career in research and played a major role in my decision to apply to graduate school. My work as an undergraduate helped me decide what exactly I want to focus on and find schools whose faculty did research in that area."
Bulka is the fourth BioE undergraduate to win the ASPIRE award since the department's launch in 2006, and the fifth whose project was based in a BioE laboratory or research group. He is preceded by Joshua Thompson (2011), Omar Ayyub (2010, B.S. '10), Adam Behrens (2009, B.S.'10, Department of Chemical and Biomolecular Engineering), and Gunja Dave (2007, B.S. '09).
Published April 22, 2013