Rosenberg: HHMI Fellowship Supports Research on Osteoarthritis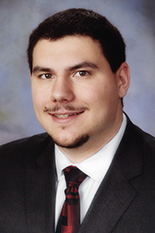 "I am interested in regenerative medicine," says Clark School Fischell Department of Bioengineering (BioE) senior Kenny Rosenberg. "It takes engineering to another level, manipulating biological tissue to act in a particular, desirable manner."
While words "regenerative medicine" are most often encountered in the context of a doctor's office or a hospital, Rosenberg has already gotten his start in the discipline that uses engineering techniques to restore function to damaged and diseased tissue through his work in the Orthopaedic Mechanobiology Lab, directed by BioE associate professor and associate chair Adam Hsieh. Now, his efforts to understand how more effective treatments for osteoarthritis can be developed will be supported by a Howard Hughes Medical Institute (HHMI) Undergraduate Research Fellowship.
The competitive HHMI Fellowship program, co-sponsored by HHMI and the University of Maryland's College of Computer, Mathematical, and Natural Sciences, funds the research activities of undergraduates interested in pursuing careers in medical, biological or life sciences. The program's goals are to immerse students in the investigative process, increase their aptitude for research, and provide them with the opportunity to collaborate directly with a faculty mentor.
Rosenberg, who is mentored by Hsieh and BioE graduate student Julianne Twomey, is studying how stem cell response could be engineered to improve treatments for degenerative joint disorders, such as osteoarthritis and degenerative disc disease. "Wear and tear" on cartilage and fibrocartilage tissues causes those who suffer from these diseases lose the cushioning, shock absorption, and flexibility in their joints, resulting in inflammation and pain. The tissue damage affects both chondrocytes (cartilage cells) and the extracellular matrix, the structural proteins manufactured by chondrocytes. The implantation of human mesenchymal stem cells (hMSCs) at damaged intervertebral disc or cartilage sites has been proposed as a potential therapy because they are capable of becoming adult chondrocytes.
"Unfortunately," says Rosenberg, "this technique has had little success because these [mesenchymal stem] cells have difficulty overcoming the microenvironment of the damaged tissue. Our study seeks to exchange the natural reaction of cells to their mechanical environment for a more favorable one."
Rosenberg, Twomey and Hsieh hope to do that by gaining a better understanding of the cells' mechanotransduction machinery, the means by which they sense their environment and respond by converting external mechanical signals into biochemical ones. The hope is that implanted cells can be engineered to respond to their damaged environment in a way that will be therapeutic. Rosenberg is examining the role of the pericellular matrix (PCM), the coating found immediately surrounding the hMSCs as they differentiate from stem cells to chondrocytes.
"The PCM had previously been shown to buffer the biomechanical stimuli of the cell and is [therefore] likely to play an important role in mechanotransduction," he explains. Understanding how the PCM affects the hMSCs' response to the mechanical stress they experience could enable bio- and tissue engineers to create modified cells capable of surviving implantation into area of damaged cartilage, so they can successfully transform and rebuild what has been lost.
Rosenberg, who has worked in the Hsieh Group since the summer of 2012, has been involved in research throughout his undergraduate career. In the summer of 2011 he served as an intern at the National Institutes of Health's National Institute on Aging, where he studied the efficacy of diagnosing cartilage degradation using multiple MRI parameter analysis; and he has recently completed his tenure in the Gemstone program, in which he was part of team that used mouse models to study the metabolic dysregulation caused by diet-induced obesity.
Rosenberg describes all of his research experiences as valuable opportunities to not only learn how the process works, but to prepare for his ultimate goal of pursuing M.D. and Ph.D. degrees in after graduation.
Published April 26, 2013