Rappaport Wins HHMI Fellowship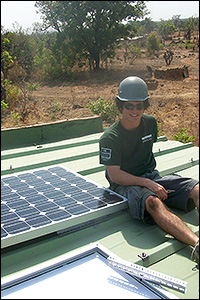 Fischell Department of Bioengineering (BioE) senior Jeff Rappaport, advised by Associate Professor
Silvia Muro
, has received a
Howard Hughes Medical Institute (HHMI) undergraduate research fellowship
to support his continued research on safe and effective targeted drug delivery systems.
The competitive HHMI Fellowship program, co-sponsored by HHMI and the University of Maryland's College of Computer, Mathematical, and Natural Sciences, supports the research activities of undergraduates interested in pursuing careers in medical, biological or life sciences. The program's goals are to immerse students in the investigative process, increase their aptitude for research, and provide them with the opportunity to collaborate directly with a faculty mentor.
"I couldn't graduate from a research institution like UMD without stepping foot in a laboratory," says Rappaport, who joined the Muro's team in Spring 2012 after discovering his love for cell biology. His work supports the group's overall mission to investigate, design, and improve treatments of rare, inherited diseases.
The Muro Group has been developing new strategies for delivering therapeutics to specific kinds of cells, particularly by taking advantage of cells' natural ability to ingest molecules from their surroundings and transport them across biological barriers, processes known as endocytosis and transcytosis, respectively.
Rappaport's project focuses on the treatment of patients suffering from lipidosis, a group of inherited genetic disorders that limit endocytosis and allow the buildup of lipids (fats) in cells, ultimately resulting in multiple organ dysfunction and failure. Treatment options for a number of these disorders, he says, currently range from limited to non-existent.
Rappaport hopes to overcome one of the barriers to treatment, the diminished endocytic activity, by enhancing the delivery of lipid-digesting medicinal enzymes to patients that lack them. Preliminary results suggest that new compounds developed by Muro Group collaborators can revive endocytosis in diseased cells, allowing the drug delivery system pioneered by Muro to enter the cells and treat the underlying disorder. If successful, a treatment plan that combines the two groups' innovations will both help revive endocytic activity and successfully deliver the enzymes the cells need to break down the excess lipids.
"I will grow cells in the laboratory, make them artificially sick, treat them with these compounds and with fluorescent markers for endocytosis, and then analyze the therapeutic effect using fluorescence microscopy," Rappaport explains. "Hopefully, this will open up new avenues of treatment for patients with deadly genetic disorders."
Prior to his current project, Rappaport worked with BioE graduate student and fellow Muro Group member Janet Hsu on strategies for delivering therapeutics across the blood/brain barrier. In the summer of 2012, he studied cellular motor proteins at the Laboratory of Molecular Physiology at the National Institutes of Health through its Biomedical Engineering Summer Internship Program.
Outside of the lab, he was for three years a member of Engineers Without Borders' Burkina Faso project, which designed and installed solar lighting and water purification systems in the country's rural health clinics. He was also one of the engineers behind the WaterShed house, the University of Maryland's first place entry in the 2012 Solar Decathlon. In his free time, he enjoys weightlifting, practicing the piano, and cooking.
Rappaport is the fourth BioE student in as many years to receive a HHMI Fellowship, preceded by Joshua Thompson (advised by Professor John Fisher), Mian Khalid (advised by Professor Peter Kofinas), and Rasa Ghaffarian (also advised by Muro). Another Muro Group member, Maria Ansar (biochemistry and cell biology & molecular genetics), won the award in 2012, and chemical and biomolecular engineering major Apoorv Gupa, a member of BioE professor and Chair William E. Bentley's research group, won in 2010.
Published January 24, 2013