BIOE Junior Natalie Livingston Receives 2017 Goldwater Scholar Honorable Mention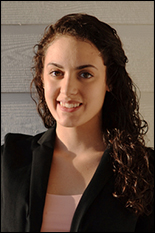 Fischell Department of Bioengineering (BIOE) junior Natalie Livingston was named the recipient of a 2017 Barry M. Goldwater Scholarship and Excellence in Education Foundation honorable mention. The foundation encourages students to pursue advanced study and careers in the sciences, engineering and mathematics.
Livingston, a member of BIOE assistant professor Steven Jay's Biotherapeutic Development and Delivery Laboratory, is working with fellow researchers to develop a new method of loading nanoparticles for drug delivery. In the summer of 2015, Livingston studied antibiotic resistance as an intern at the National Institutes of Health, and in the same year received a National Science Foundation-funded Louis Stokes Alliances for Minority Participation grant.
In 2016, Livingston received a competitive Howard Hughes Medical Institute undergraduate research fellowship, and she co-authored a peer-reviewed publication in the journal Cellular and Molecular Bioengineering on the use of sonication to load small RNAs into extracellular vesicles to knock down oncogenes.
"Natalie is highly mature and has a strong work ethic, and she thinks clearly about scientific problems," Jay said. "She has already developed into a highly qualified researcher and she will be a success in whatever path she chooses."
Livingston is also a member of the University Honors Program, the Tau Beta Pi engineering honor society and the Alpha Eta Mu Beta biomedical engineering honor society.
The Goldwater Scholarship program was created in 1986 to identify students of outstanding ability and promise in science, engineering and mathematics, and to encourage their pursuit of advanced study and research careers. This year, in addition to Livingston's honorable mention, three University of Maryland students were awarded scholarships by the Barry M. Goldwater Scholarship and Excellence in Education Foundation: juniors Christopher Bambic (Physics, Astronomy), Eliot Fenton (Physics) and Prayaag Venkat (Computer Science, Mathematics).
The Goldwater Foundation has honored 58 University of Maryland winners and five Honorable Mentions since the program's first award was given in 1989. In the past five years, UMD's 20 nominations have yielded 17 scholarships and two honorable mentions. Prior Goldwater Scholars and nominees from UMD have continued their impressive academic and research pursuits at leading institutions around the world and have gained additional recognition as:
A Rhodes Scholar
A Truman Scholar
A Fulbright Scholar
National Science Foundation graduate research fellows
Gates Cambridge and Churchill Scholars
A Clarendon Fund Scholar
Colleges and universities may submit up to four nominations annually for these awards. Goldwater Scholars receive one- or two-year scholarships that cover the cost of tuition, fees, books, and room and board up to $7,500 per year. These scholarships are a stepping-stone to future support for their research careers.
The full press release announcing the University of Maryland's 2017 Goldwater Scholars is available online.
Published April 13, 2017