BioE Undergrads Celebrate Upcoming 4th Edition of The Catalyst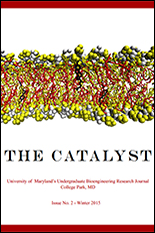 By Emilie Berman
While countless undergraduate students in the Fischell Department of Bioengineering (BioE) log long hours participating in innovative research under the tutelage of university faculty and professionals in the field, one student decided it was time for his peers to gain recognition for their work.
Kevin Pineault, a transfer student in BioE and a member of Assistant Professor Christopher Jewell's research lab, felt the need to give back to his department by publishing student research in what is now the department's first-ever undergraduate research journal, The Catalyst.
"A lot of students don't know a lot about undergraduate research, and they don't know how beneficial it can be," Pineault said to explain why starting the journal was extremely important for him.
After coming to the University of Maryland (UMD) the summer before his sophomore year, Pineault contacted Dr. Tracy Chung, Director of Academic and Student Affairs for the department, to discuss his vision for a research journal specifically focused on bioengineering. Having little knowledge of how to assemble a research journal at the time, Pineault decided to speak with students at the University of Virginia who had helped to establish their own research journal, The Spectra.
By founding The Catalyst with a group of fellow bioengineering students, Pineault hoped not only to create a professional journal that would highlight the work of his peers and BioE faculty, but also to galvanize interest and involvement within the Clark School.
The Catalyst, published each semester, highlights two to three papers that BioE students submit to an editorial team, who then work one-on-one with the students to record ongoing and completed research involving undergraduate students.
A goal of the publication's editorial team is to encourage all students to publish their research, whether completed or not, and to build confidence in specific fields of study, Pineault said. The editorial board also hopes the publication creates interest in the research currently being conducted at the university and helps boost attendance at various events held by the department and the Clark School.
With the help of BioE lecturer Dr. Angela Jones, an advisor to The Catalyst editorial team, eight to ten bioengineering students work throughout the semester to compile interviews with fellow bioengineering students, follow up with research paper submissions, and find upcoming events to publish in the next edition in order to create a more connected community among students and researchers.
The Catalyst team is always looking for new research to publish, and students who would like to become more involved with the Clark School. With the help of future UMD students, Pineault and The Catalyst editorial team hope that their journal continues to grow and recognize the talent and drive for innovation present in both the Clark School and across the UMD community.
The fourth edition of The Catalyst is slated for publication this fall.
Support for The Catalyst is welcome via the fall 2015 Launch UMD campaign.
Published September 30, 2015