Celebrating Native and Indigenous Voices in Engineering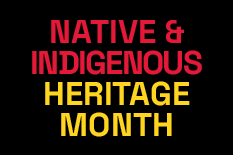 Edmon Perkins Ph.D. '15 credits his Native upbringing for his interdisciplinary mindset.
The Maryland Engineering alum and member of the Creek and Choctaw Nations grew up in rural Oklahoma, where his family farmed a Native American allotment. His parents, both having earned biology degrees, used science and engineering principles to help Perkins and his sister learn farming and machinery troubleshooting. They were also supportive of their children's musical interests: Perkins studied piano performance before earning bachelor's and master's degrees in mathematics at the University of Oklahoma and his engineering doctorate at the University of Maryland. (Later, he would develop music modules for middle and high school students enrolled in Native American STEM summer camps in Oklahoma, a program he'd like to restart.)
Now a specialist in vibrations and their applications, Perkins—who was among the inaugural class inducted into the Clark School's Early Career Distinguished Alumni Society—launched a startup, LAB2701, to create low-energy oscillators that can perform artificial intelligence tasks such as audio and image classification, prediction, and compression. "Oscillators are prolific," explains Perkins. "Since some deep neural network models take as much energy as the lifecycle of four vehicles, low-energy computing that is compact enough for edge devices, such as smartphones, is extremely relevant. LAB2701 could open up many possibilities for nontraditional types of computers."
The first Native American to receive a Ph.D. in mechanical engineering from UMD, Perkins credits the "very diverse" lab of his advisor, Distinguished University Professor and Department Chair of Mechanical Engineering Balakumar "Bala" Balachandran, for setting the bar high on mentorship. Perkins says it's about meeting people—at all ages and stages—where they are, and listening to and valuing their stories, aspirations, and successes. "What it means to be an undergraduate, a Ph.D. student, a faculty member: it's a steep learning curve," he says. "Faculty and peer mentorship makes all the difference."
Formalized mentorship programs are vital to fostering the kind of supportive engineering community that's needed to expedite novel solutions to society's grand challenges, says Paige Smith, director of the Women in Engineering Program (WIE) at Maryland. An inclusive student community broadens the spectrum of experiences and ideas upon which the engineering process can draw, she says: "The grand challenges require a community diverse in all dimensions—gender, geography, nationality, ancestry—coming together as one."
In the U.S., Native and Indigenous Americans make up about 2.9 percent of the overall population, but only about 0.4 percent of STEM Ph.D. holders. Researchers point to disparities in school systems and to educational resources, including skilled teachers and quality curriculum, as a key challenge.
It's also an opportunity for programs, like the Center for Minorities in Science and Engineering (CMSE) at Maryland, to drive change in the dramatic underrepresentation of Native and Indigenous, as well as Black and Latinx, students in engineering. "The main challenges these students face are systemic and outside of their control," says Rosemary Parker, who's directed CMSE since 1985. "Discrimination, bias, and the feeling that one doesn't belong all hinder academic success."
The center's focus on developing and graduating these students begins long before they step foot on campus; programs for elementary, middle, and high schoolers introduce promising young learners from all backgrounds to engineering and UMD. CMSE continues nurturing and supporting students through undergraduate and graduate school and culminates with a vibrant alum community focused on professional development and excellence.
For many, programs at Maryland like CMSE and WIE (and at national organizations such as the American Indian Science and Engineering Society and Society for the Advancement of Chicanos/Hispanics and Native Americans in Science) reassure students that the Clark School is where they belong. "Good mentorship," Smith says, "is about giving students space to honor their heritage, and insider knowledge to excel in this engineering world we've created."
Learn Their Stories: Native and Indigenous Engineers
One of NASA's "hidden figures" and a member of the Cherokee Nation, Mary Ross was the first known female Native American engineer, contributing throughout her career to essential aerospace technology. In retirement, Ross advocated for young women and Native Americans in STEM.

John Bennett Herrington is a retired aeronautical engineer and astronaut. A member of the Chickasaw Nation, NASA considers Herrington the first Native American astronaut to accomplish space travel and a spacewalk.

A member of the Wailacki branch of California's Round Valley Indian Tribes, Nicole Aunapu Mann became the first Native American woman in space when she served as Mission Commander of a SpaceX flight to the International Space Station in 2022. The NASA astronaut and U.S. Marine Corps Colonel earned bachelor's and master's degrees in mechanical engineering.

Electrical engineering alum Marcellus Proctor '98 is associate chief for the Electrical Engineering Division at NASA's Goddard Space Flight Center. A member of the Piscataway-Conoy Nation, Marcellus is a lifetime member of the Society of American Indian Government Employees, American Indian Science and Engineering Society, and National Society of Black Engineers.

Aerospace engineering alum Sheila Cummings '95 founded Cummings Aerospace in 2009, specializing in the flight science solutions and technologies for aerospace systems in support of Department of Defense customers. A member of the Lumbee Cheraw tribe, Cummings is the founder of the ACE Scholarship Program, which provides education funding to economically disadvantaged and underrepresented students pursuing an engineering, math, or science degree.

Mariah Gladstone is founder of Indigikitchen. Trained in environmental engineering, Gladstone encourages people to "indigenize" their diets to help revitalize and preserve the cultural richness of Native American foodways, and highlights the links between healthy diet and environmental stewardship. Gladstone, who is Blackfeet and Cherokee, was selected by the First Nations Development Institute as a Luce Indigenous Knowledge Fellow and named a Champion for Change by the Centre for Native American Youth.

Born and raised in Kona, Hawaii, on a family farm, Ka'eo Duarte cultivated a closeness to the land and community. Earning degrees in civil and environmental engineering, Duarte focused on the management and socioeconomic facets of water resources. Today, he is vice president of Kamehameha Schools' Community & 'Āina Resiliency Group; under his leadership, Kamehameha Schools established a $10 million Hawai'i Food Systems Fund to accelerate the revitalization and diversification of food systems.
A member of the Diné (Navajo) Nation, Suzanne Singer is co-founder and executive director of Native Renewables. With a background in mechanical engineering and energy analysis, she has developed programs that promote tribal energy independence, offer affordable off-grid solar energy solutions, and provide training and education that empower Native American families.
Make Space: 2023 Events at Maryland
Each year, UMD's Multicultural Involvement and Community Advocacy Office coordinates a campus-wide calendar of events to commemorate Native and Indigenous Heritage Month. Learn more and get involved.
Published November 6, 2023