Clyne, Jewell Inducted into AIMBE College of Fellows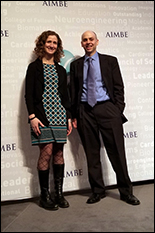 Fischell Department of Bioengineering (BIOE) associate professors Alisa Morss Clyne and Christopher Jewell were inducted into the American Institute for Medical and Biological Engineering (AIMBE) College of Fellows on Monday, March 25th.
Election to the AIMBE College of Fellows is among the highest professional distinctions accorded to a medical and biological engineer. College membership honors those who have made outstanding contributions to engineering and medicine research, practice, or education. Fellows are also recognized for the pioneering of new and developing fields of technology, making major advancements in traditional fields of medical and biological engineering, or developing/implementing innovative approaches to bioengineering education.
Both Clyne and Jewell were nominated, reviewed, and elected by peers and members of the College of Fellows.
"Drs. Clyne and Jewell have each made tremendous contributions to the field of biomedical engineering and to the advancement of human health research at large," said BIOE professor and chair John Fisher. "This latest honor is a testament to their hard work, as well as to their tireless efforts to expand interest in bioengineering studies and the STEM fields."
Clyne, who began her appointment with BIOE in spring 2019, was recognized for outstanding contributions to vascular mechanobiology and metabolism research, innovation in biomechanics education, and tireless advocacy for engineering diversity. In 2018, she was elected to the Biomedical Engineering Society Board of Directors.
Jewell was recognized for leading innovative research to understand the interactions between biomaterials and immune tissues, and for developing nanotechnologies enabling more selective immunotherapies. In addition to his appointment as associate professor, Jewell also serves as BIOE Associate Chair for Research. He is also a Robert E. Fischell Institute for Biomedical Devices faculty member, and a research health scientist with the Baltimore Veterans Affairs Medical Center.
Both Clyne and Jewell were inducted along with 155 colleagues who make up the AIMBE College of Fellows Class of 2019. They were recognized at a formal induction ceremony held on March 25, 2019 at the National Academy of Sciences in Washington, D.C.
AIMBE Fellows are among the most distinguished medical and biological engineers. The College includes two Nobel Prize laureates, 17 recipients of the Presidential Medal of Science and/or Technology and Innovation, 158 inductees into the National Academy of Engineering, and 31 inductees into the National Academy of Sciences.
AIMBE is the authoritative voice and advocate for the value of medical and biological engineering to society. AIMBE's mission is to recognize excellence, advance the public understanding, and accelerate medical and biological innovation.
Published March 25, 2019